Facility Manager Cost Saving/Best Practice Quick Reads RSS Feed
How Can Buildings Make Healthier, Happier Occupants?
October 21, 2019 - Contact FacilitiesNet Editorial Staff »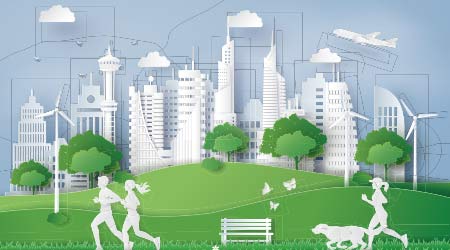 How can we design spaces that make us measurably healthier, happier, and more productive? That is the question Flavia Grey, a Schneider Fellow with the U.S. Green Building Council, asks to kick off Season 2 of USGBC's Built for Health podcast.
It's a fascinating question, and one facility managers should take seriously, as it has become more and more apparent how important health and wellness strategies are to workplace design and operations. A recent study by CBRE showed that 78 percent of millennials consider workplace quality when choosing an employer. And of course, there is tons of evidence, both anecdotal and scientific, about how sustainable buildings infused with health and wellness strategies command higher rents, improve employee recruitment and retention, and have much higher occupant satisfaction rates than traditional buildings.
The first episode of Season 2 of USGBC's Built for Health podcast tackles a rather macro-issue related to health and wellness in buildings: how climate change is affecting human health. Spoiler alert: The way climate change is affecting human health is not good. According to USGBC, the intensification of storms, heat waves, and other weather patterns caused by climate change, can lead to adverse health outcomes over time, including a rise in heat-related morbidity and mortality, and loss of life due to flooding or wildfire. Also of concern is air quality and respiratory health among vulnerable populations, like young children and the elderly.
On the podcast, Gray interviews Jeffrey Shaman, director of the climate and health program at the Columbia University Mailman School of Public Health, and Laurie Schoeman, national director of resilience at Enterprise Community Partners. The discussion digs into the details of how changing atmospheric and social factors are likely to influence health, now and in the future.
This post was submitted by Greg Zimmerman, executive editor, Building Operating Management and FacilitiesNet.com. Read his cover story about Chris Walinski and his mission to make open offices flexible and productive.
---
Comments