You Might Like
On FacilitiesNet
Defining Wellness and How to Achieve It in Buildings
Part 2 of a 4-part article on using building design and operations to support wellness
OTHER PARTS OF THIS ARTICLE
Pt. 1:
Using Buildings to Support Human Health
Pt. 2: This Page
Pt. 3:
Strategies in Existing Facilities Include Using Stairs to Get People Moving
Pt. 4:
Targeting Toxic Exposure from Materials Another Key to Occupant Health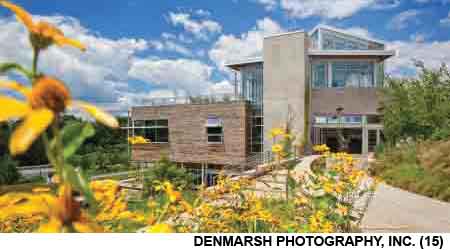 Currently, the design and standards community is working to define what wellness means and how to best achieve it through building design and operations strategies. A lot of careful effort is also being made to scientifically prove that the strategies put forth will have reliable effects. While there has long been research and niche interest in the subject, what has arisen are evidenced-based systems with codified strategies for facility managers to follow. Take the International WELL Building Institute, which launched the WELL Building Standard (WELL) v1.0 in October 2014. WELL focuses solely on the health and wellness of building occupants. "The WELL Building Standard is a combination of harm avoidance and health improvement," says Nathan Stodola, the vice president of product development for the International WELL Building Institute. "A WELL building must address known dangers such Legionella and formaldehyde, as well as address quality of life improvements, like acoustic comfort and biophilia."
The standard focuses on the impacts of seven concepts: air, water, nourishment, light, fitness, comfort, and mind. These cover more than 100 features that impact the health, comfort, or knowledge of occupants. Certifications exist for new and existing buildings, interiors, and core and shell. More than 16 million square feet of projects have already registered or certified through WELL.
WELL is set up in a way that will be familiar to users of green building standards, and pairs well with such systems, without crossing over into considerations of energy or eco-friendliness. "We've made it a point to not make our standard a green standard," says Stodola, though there will inherently be some overlap in strategies. "LEED is looking at safe materials that are not off gassing, which is a hallmark of the WELL program, and in other cases there is overlap in design but not in intent. For example, a green building standard might prefer that people use the stairs because it saves electricity, or bike or walk instead of use cars from an energy and pollution point of view. For the WELL program, we like those same sorts of things, but from a physical activity point of view."
Designing for Wellness
The first office to be certified under the WELL Building Standard in fall of 2013, while it was still in the pilot phase, was CBRE's global corporate headquarters in Los Angeles. In a Workplace 360 study in 2014, 92 percent of employees in the space said the new space had a positive effect on their health and well being, and 94 percent said the new space had a positive impact on their business performance.
Several organizations have put forth guidelines for achieving improved human health outcomes in buildings (see "Resources" sidebar in Part 4 of this article), but even if a building project does not have this as its primary focus, it is likely still going to be part of the conversation. When the Superior Court of California in San Benito County, Calif., decided it needed a new facility that could meet current trial court facilities standards, a primary consideration was that the new facility be seen as an integral and welcoming part of the community. But human health outcomes were also naturally part of the project.
Given the high-stress environment of a courthouse, particular attention was paid to the circulation flow within the building and intuitive way finding. A glass facade both floods the facility with natural light and makes it easy to see how navigation works within the space. "Especially in a courthouse or in places where people are nervous or under a lot of stress, orientation is very important," says Kim Swanson, associate at SmithGroup JJR, the architect for the project. "People may not articulate that as being something that they don't like about certain kinds of buildings, but we recognize that is something that contributes to being able to navigate without too much stress."
"That contributes to comfort, psychological comfort," adds Hiroko Miyake, principal at SmithGroup JJR and the project designer. "The way finding is very important at any level."
One of the crown jewels of the new building is the main stairway in the lobby, which is done in warm inviting materials. "When you walk into the building, you may have already seen the stair before you even go through the door," says Swanson. "And then once you get through security it's there, you see it, it's bathed in daylight. You're going to go there."
Stairs and elevators at both ends of the building also promote circulation, avoiding dead ends, and views to the outdoors were made at every possible vantage point. "When you have a dead end, you just feel agitated," says Miyake, who says the consideration is the same as when designing for dementia patients. "You always like to feel flow and movement."
Continue Reading:

Wellness

Using Buildings to Support Human Health

Defining Wellness and How to Achieve It in Buildings

Strategies in Existing Facilities Include Using Stairs to Get People Moving

Targeting Toxic Exposure from Materials Another Key to Occupant Health
---
---
---
Related Topics:
Comments