4 Ways High-Performance Floorcovering Leads To Patient Satisfaction
From comfort to infection control, floorcovering selection can be profoundly associated with the user experience in a healthcare facility.
OTHER PARTS OF THIS ARTICLE
Pt. 1:
What to Consider When Specifying Flooring
Pt. 2:
How Floorcoverings Decisions Affect Environment of Care
Pt. 3: This Page
Pt. 4:
Consider Floorcovering Sustainability For Healthcare Selection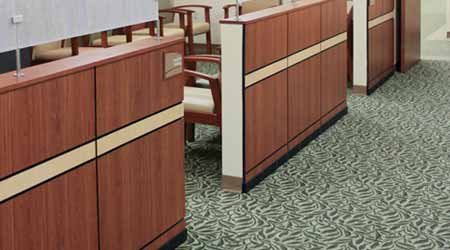 Oculus Inc., Ron Reim
Understanding four key physical or emotional elements that affect patient satisfaction will guide design teams to select high-performance floorcovering choices. The elements are comfort and function, infection control, maintenance, and sustainability.
Design elements that address both comfort and function are particularly powerful in achieving positive emotional impact for patients. When any user — patient or staff — walks into a hospital for the first time, the emotional impact of the design should be reassuring and signal outstanding competence and care. And the design should continue to elicit positive emotions throughout the users' experience of the facility. Colors and patterns play a large role in creating a non-institutional ambience; flooring offers a large canvas for both. Visually pleasing flooring design elements, however, must be weighed against functionality. Fall prevention, sound control, and accommodations for general physical wear on the human body are just a few of the design considerations that can enhance value and satisfaction in flooring selections.
The selection of floorcoverings in many lobbies or corridors can serve as a method of wayfinding for patients and their families as well as eliminating congested corridors that reduce staff efficiency. Many architectural firms are using floorcoverings as a means of wayfinding to help those with vision-impairment: to lead them in a direction or stop them from entering a restricted area with an implied barrier as a visual cue. Keep in mind that patients in Alzheimer's facilities or geriatric areas in a hospital may be negatively affected by colors, patterns, and wayfinding strategies — if color-blocking or the patterning is too busy, it can cause disorientation that may lead to slips and falls.
As noted earlier, excessive noise affects patient comfort, safety, and health and is an important influencer on the overall patient experience. There are many floorcovering options available to support a healthier and more acoustically comfortable environment.
User experience is profoundly associated with a hospital's ability to manage readmission rates through infection control. The financial aspect of achieving goals for the elimination of healthcare-associated infections has forced healthcare management teams to demand more support from the facility planners, designers, and architects.
The most valuable design contribution is to specify products that eliminate or control hazards that could prove deadly. Flooring materials that are designed to reduce or eliminate infection can also make a significant contribution to the management of facility cleanliness. When choosing between vinyl composite tile and seamless sheet vinyl, it's important to weigh durability with infection control and sustainability. While both materials are non-porous and easy to maintain, vinyl composite tile can harbor pathogens in its joints, so it's not an allowable material for operating rooms. Seamless sheet vinyl is commonly used in these types of settings because it doesn't have construction seams and is less likely to harbor infectious agents. However, tile is increasingly prevalent in ambulatory care settings because of its proven performance and wide array of customizable design options (such as vibrant colors or natural patterns).
Flooring maintenance, especially of high traffic areas, is critical to end-user satisfaction. Sudden or excessive noise, slippery floors, scuff marks, or surface indentations all have a negative effect on a patient's perception of value and satisfaction. On an ongoing basis, flooring durability and appearance affect medical staff performance levels as well as mindsets. Researching flooring performance data for the appropriate location is key to selecting the optimum floorcovering, whether vinyl composite tile, carpet, laminate, or wood, for applications throughout a hospital.
Continue Reading:

Healthcare Flooring

What to Consider When Specifying Flooring

How Floorcoverings Decisions Affect Environment of Care

4 Ways High-Performance Floorcovering Leads To Patient Satisfaction

Consider Floorcovering Sustainability For Healthcare Selection
---
---
---
Related Topics:
Comments