What to Consider When Specifying Flooring
The principles of evidence-based design should extend to flooring selections in healthcare facilities.
OTHER PARTS OF THIS ARTICLE
Pt. 1: This Page
Pt. 2:
How Floorcoverings Decisions Affect Environment of Care
Pt. 3:
4 Ways High-Performance Floorcovering Leads To Patient Satisfaction
Pt. 4:
Consider Floorcovering Sustainability For Healthcare Selection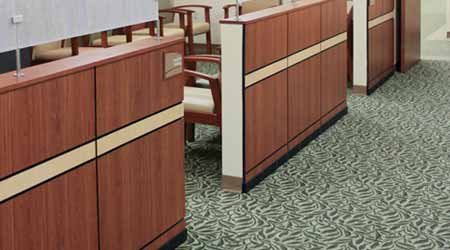 Oculus Inc., Ron Reim
User experience — patient and staff experience — is an increasingly critical factor in the healthcare industry, especially as hospital consumerism and comparison become firmly rooted in the market. A focus on user experience allows hospitals to evaluate their delivery of care methodology and implement positive change where indicated "self-improvement" measures are essential to a hospital's longevity and stake in market share. User experience in a healthcare facility is frequently judged by more than the quality of medical care by both patients and staff. More than 10 years of data from the Hospital Consumer Assessment of Healthcare Providers and Systems (HCAHPS) survey, as well as post-occupancy surveys and previously conducted research relevant to design finishes, show that some aspects of facility design have tremendous impact and influence on both patient and staff perceptions of their hospital experiences.
Evidence-based design is a vital technique to address user-experience challenges. This process continually informs design from project conception to post-occupancy and, ideally, remains active throughout the project lifecycle and beyond. Evidence-based design compels design teams to consider the tiniest of details, and base designing and planning decisions on credible evidence with the end goal of achieving outcomes that benefit patients and staff. From minimizing travel distance between nurse stations and patient rooms, to perfecting noise abatement for acoustically sensitive spaces, to right-sizing spaces for a range of users, the marriage of research and design plays a central role in determining patient and staff perceptions of value and satisfaction.
Flooring is an emerging key player in enhancing user experiences, for both patients and staff, in hospitals and healthcare facilities. A close examination of how flooring contributes to the health, safety, and welfare of patients and staff empowers facility managers and designers to develop the most effective design strategies.
Selecting hospital floorcoverings
Three key elements generally drive the selection of flooring by hospitals: facility goals for patient satisfaction, environment of care, and staff considerations.
Hospitals are usually aiming to increase patient satisfaction ratings across the board, so the design team needs to take a deep dive into the areas of most frequent patient complaint. A typical area of focus is the medical-surgical unit where the level of care requires a lot of staff activity and a lot of noise. That often affects patients' sleep, which is an area of frequent patient complaint. The acoustical quality of the flooring selected can affect noise levels, and therefore whether patients are going to sleep or even rest. The lack of sleep and the audio disturbance level can negate the delivery of high-quality care through negative patient perception.
Mendota Community Hospital addressed noise levels with a bleach-resistant, soil-resistant, and antimicrobial-treated carpet product that absorbed sound. The antimicrobial and ease-of-cleanup properties offered a bonus for infection prevention in an inpatient unit.
Another product option that can offer acoustical benefits is rubber flooring, which absorbs ambient noise and reduces the sound of carts and foot traffic to create an overall more peaceful environment.
Creating a calming environment is also a top facility goal in hospitals and medical clinics, given that reduced stress has been shown to improve patient satisfaction. That was a key factor in the selection of floorcoverings for several Department of Veterans Affairs community-based outpatient clinics. Designs for a facility that serves a veteran population need to take into consideration the range of patient ages and combat experience and the varying stress levels faced by the population. Incorporating nature-based colors and materials reminiscent of wood and stone can help decrease the level of stress veterans have using a facility like that.
Continue Reading:

Healthcare Flooring

What to Consider When Specifying Flooring

How Floorcoverings Decisions Affect Environment of Care

4 Ways High-Performance Floorcovering Leads To Patient Satisfaction

Consider Floorcovering Sustainability For Healthcare Selection
---
---
---
Related Topics:
Comments