Fire Safe? Answer These Critical Questions About Building Fire Protection
Considering these questions about facility features, operations, and fire safety personnel can help facility managers improve the fire safety of their buildings.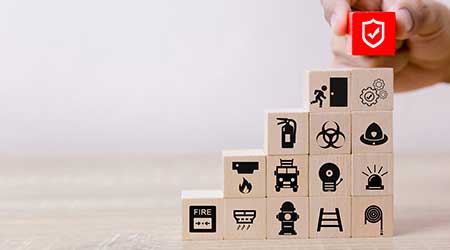 Every year, more than 100,000 fires occur in non-residential properties. According to the Federal Emergency Management Agency (FEMA), when a business experiences a disaster, including fire, more than 40 percent of these businesses never reopen, and only 29 percent are still operating two years after the event. While the rate of all building fires has been slowly declining over the last decade, annually the United States still incurs approximately 1.5 million structural fires causing nearly 3,000 deaths and costing over $10 billion in direct property damage. Therefore, lessening the number, severity, and impact of fires is a crucial charge for building owners.
Fire prevention consists of programs and activities that minimize the likelihood of fire, while fire protection is about ensuring that fire systems have been properly installed and are being effectively maintained to minimize the severity of a fire. Implementing the various programs and processes to ensure these desired qualities are being effectively met may include personnel education and training, facility and process design reviews for fire safety, facility inspections, system inspection, testing, and maintenance (IT&M), as well as the compliance reviews of the applicable codes and fire standards.
Maintaining compliance with the various fire protection requirements requires considerable knowledge and coordination with other entities. This becomes even more difficult during a pandemic or economic hardships when on-site staffing and resources may not be readily available or affordable. Coordination is needed with multiple agencies and organizations including: the insurance carrier for the building and occupant, local building officials, appointed Authority Having Jurisdiction, IT&M performers, local fire department, and facility engineering personnel.
Owners are required to and must become familiar with and understand the applicable fire safety requirements, not only for their facilities and continued operations, but also for the safety and security of their employees and other occupants. As an owner or responsible tenant, a number of features must be understood and some specific questions must be reviewed to ensure the fire safety of the business. These include questions regarding the facility construction and fire protection features, the hazards of the business operations, as well as the anticipated actions by employees during a fire emergency.
Facility Features
The construction features of a facility have a significant role in the reduction of fire risk. The applicable codes and standards must be used to determine the appropriate construction features and materials based on the size and occupancy. Various construction materials are available ranging from fire resistant (concrete and/or protected steel) to ordinary combustible (wood frame). Interior finish materials can also impact the overall risk.
Certain fire separation and protection features may also be required by local codes and standards. This could include one or more of the following: rated fire walls, fire barriers, fire doors and dampers, smoke removal systems, automatic sprinkler systems, an adequate water supply, and a fire alarm and detection system. Designated exits and egress routes need to be maintained clear and unobstructed. The following questions should be considered regarding the features of a facility's design and construction as related to fire safety.
Have the facilities been designed and built to meet fire safety requirements?
Are required construction features fire resistive and in good repair?
Are any required fire barriers properly installed and maintained? This includes fire doors, fire barrier penetrations, and fire dampers.
Are building fire suppression systems (automatic sprinklers) required?
Is there an adequate and reliable water system available to supply both the automatic sprinkler system and the use of external fire hydrants?
Are remote and/or local fire alarm systems required?
If fire systems are required, are these systems installed properly and are they obtaining the proper level of IT&M?
Are exits and egress routes properly marked and maintained?
Are emergency lights, exit signs, fire extinguishers, or other fire safety features installed as required?
Operational Features
The specific hazards involved with facility activities and operations are varied and need to be properly assessed. The overall risks and protection features are significantly different in an office occupancy, a manufacturing activity, and any areas used to store or dispense hazardous, combustible, or flammable materials. The hazards of each activity must be properly assessed to verify the risks are being properly managed. The different activities and operations may require totally different fire prevention or protection features to effectively minimize the risks of fire. Facility managers should consider these operational fire safety questions.
Are the fire risks associated with the storage and handling of materials understood and properly protected? This could include flammable and combustible materials, toxic or hazardous chemicals, high piled storage of combustible materials, and hazardous gasses.
Are special fire hazards, such as flammable liquids dispensing, properly protected?
Are routine inspections conducted to assess any changing conditions that could impact the overall risk of fire?
Are hot work and fire system impairment controls in place that protect your business?
Personnel Features
One of the most important, and oftentimes overlooked, fire prevention and protection features involves the personnel within a facility. It is vital that the people working in a facility are knowledgeable of the hazards within their area and are effectively trained and capable of minimizing the risk of fire. This includes the proper correction or management notification of hazard changes within their work area as well as the ability to take the appropriate actions should an emergency occur. Answer these questions about your fire protection personnel.
Are personnel familiar with the hazards within the facility?
Are employees encouraged and given the authority to correct or report hazards or changing conditions to management?
Are personnel trained and familiar with the appropriate emergency response to a fire?
Are they familiar with the process for activating a fire alarm?
Are they knowledgeable on proper egress and exit procedures?
Do personnel evacuate or are they required to take mitigation actions?
If personnel are expected to evacuate, are they familiar with egress paths and staging areas once outside? Who is responsible for personnel accountability?
If employees are expected to take actions, have they had appropriate training for using fire extinguishers, verifying protection system operation, and directing emergency response personnel?
To keep staffing and overhead expenses low, many business owners and tenants often look to outside expert consultants to supplement their staff to ensure their fire prevention and fire protection programs are continuing to ensure the safety of employees, facilities, and operations. Even if your business has staff knowledgeable in fire protection or prevention processes, having an independent expert conduct an on-site visit to review your programs and procedures could be beneficial to help lower your overall risk from the devastating effects of fire.
Rich Kobelski (Rich.Kobelski@nv5.com) and Dan Kester (Dan.Kester@nv5.com) are engineers with NV5.
---
---
---
Related Topics:
Comments