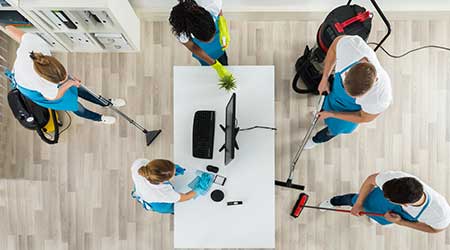 New Normal for Facilities Starts To Emerge
As institutional and commercial facilities begin to resume operations after shutting down to help combat the COVID-19 pandemic, facility managers now must address a series of new challenges. What steps do they need to take to ensure facilities protect the health of workers? Do their plumbing systems pose health threats after sitting idle for weeks? What other unforeseen threats do facilities pose?
In the broader sense, managers are starting to get a sense of the way the public now perceives facilities, as well as the opportunities available to improve indoor health.
"It turns out that while dense urban conditions can aid the spread of viral illness, buildings can also act as barriers to contamination. It's a control strategy that is not getting the attention it deserves," writes Joseph Allen, director of the Healthy Buildings program at Harvard T.H. Chan School of Public Health, in The New York Times. "If managed poorly, they can spread disease. But if we get it right, we can enlist our schools, offices and homes in this fight."
Managers also are revisiting the standards and practices they use to clean their facilities. Few Occupational Safety and Health Administration rules directly apply to offices, and voluntary guidance from government agencies has been sparse, according to Forbes, so building management companies are publishing their own guides, in part to show regulators the precautions and practices that will be in place when office buildings open their doors.
And Major League Baseball has released a detailed plan that offers insights into the extreme lengths organizations will need to consider when planning for large groups of people in their facilities. The proposal covers testing, travel, in-stadium adjustments, on-field changes and an array of other issues, according to ESPN. Players and other team personnel not participating in the game would sit in the stands, separated by at least 6 feet. Players would be required to wear masks everywhere except on the field and during strenuous activities. Their activities outside the stadium would change too, particularly on the road, where they would not be allowed to leave the hotel to eat at restaurants.
Dan Hounsell is editor-in-chief of Facility Maintenance Decisions.
---