Facility Manager Cost Saving/Best Practice Quick Reads RSS Feed
How Good IAQ Practices Can Prevent the Spread of Coronavirus
May 28, 2020 - Contact FacilitiesNet Editorial Staff »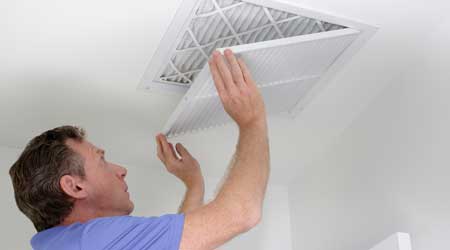 Maintenance and engineering managers have a host of challenges to address as they reopen institutional and commercial facilities after shutting down to curtail the spread of COVID-19. From potentially problematic plumbing systems to important changes to housekeeping procedures, managers need to determine which systems and processes in their facilities need their attention the most in order to keep workplaces safe.
Now managers can add ventilation systems to that list, according to architect Joe Snider in a post on Medium. The COVID-19 virus can spread "through respiratory droplets produced when an infected person coughs, sneezes or talks," according to the Centers for Disease Control and Prevention (CDC). These respiratory droplets seem to be detectable in the air for as long as three hours, according to the National Institutes of Health.
"If ventilation can help prevent the spread of airborne pathogens, and we work really hard at designing and implementing ventilation in medical facilities, might there not be strategies we could or should be implementing in other facilities that could be part of the many-pronged approach to limiting the spread of the coronavirus?" writes Joe Snider, founder of Integrative Sustainability Solutions. "The reality is that at some point we will reopen society, our economy and therefore our buildings, with the coronavirus still very much a highly contagious threat."
Based on the available information about droplets and medical facility design, it is a logical step to look at the possibility that in non-medical buildings that need to be occupied right now, maybe it would be a good idea to circulate air more; if possible, add more fresh outdoor air; and increase filtration.
Dan Hounsell is editor-in-chief of Facility Maintenance Decisions.
---
Comments