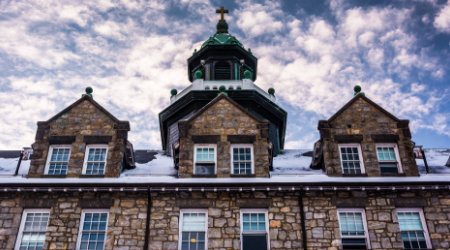 Case Study: Floor Mats Reduce Maintenance, Improve Security
Mount St. Mary's University is nestled just below the Mason-Dixon Line in rural Emmitsburg, Maryland. Don't let the humble, rolling mountain setting fool you. This is a small school with big-time amenities and ambitions.
Nearly 70 percent of the university's students live on the 1,400-acre main campus. More than 70 student groups regularly meet and hold events. Athletics are a significant part of the Mt. St. Mary's University experience, drawing thousands of fans annually. It's even a tourist destination, hosting the nation's second-largest Catholic seminary and a national shrine.
Keeping the campus clean for tour groups, tidying up after a student group's fundraiser, and ensuring students, staff, and visitors are safe during inclement weather all create an imperative mission for the university's dedicated department of public safety. It also means that ensuring entranceways and walkways are safe and clean is among the most important tasks for the maintenance team.
With so much responsibility, the team is always seeking new ideas and processes to enhance the campus's safety and appearance.
The problem under their feet
The maintenance team identified potential slip, trip and fall risks at most of the entranceways throughout the campus. Students, staff, and visitors are constantly walking in and out of the campus' 26 buildings, often tracking in rainwater, snow, leaves, and dirt. Factor in students chatting, rushing to class, or checking their phones, and it creates a challenging environment to ensure every walkway is free of hazards that could lead to a slip or fall.
The university's most common solution was rubber-backed floor mats, which were placed at entrances to dining halls, dorms, common areas, athletic venues, the chapel, administration buildings — the list goes on. However, instead of providing a safe walking surface by absorbing moisture and removing dirt from shoes, the mats were producing new problems:
The rubber-backed mats became trip hazards on their own because of their design. The thick, raised lip can easily flip over on itself or bunch up if kicked.
The constant foot traffic shifted mats out of place. This made for unprotected walkways and additional trip hazards caused by uneven surfaces that went from mat to floor to mat.
Standard 3-by-5-foot rubber-backed mats don't provide adequate walk-off coverage to ensure shoes are dry and clean before transitioning from the entrance mat to the floor surface. To get enough walk-off, the maintenance team would have to string together multiple mats together to ensure sufficient walk-off coverage.
A single solution for multiple problems
Actively seeking a better solution, Mount St. Mary's found the PIG Grippy Mat. The key product attribute was in the name — Grippy Mat literally sticks flat to the floor using an adhesive backing. That feature, combined with its low-profile and customizable designs, made an instant difference throughout the campus.
The key improvements:
Safer Entranceways and Hallways: Grippy Mat's adhesive backing and low profile addressed issues with trip hazards and a lack of walk-off coverage in lobbies and building entrances. These areas were problematic because of the change in surfaces from outside to inside, shoes tracking in moisture, dirt, and debris, and even subtle height differences between surfaces. Once installed, the mats stuck firmly to the floor. No more lifting, bunching, or shifting. Students and visitors can walk inside without worrying about where they step.
Improved Security: Students were frequently using rubber-backed mats to prop open doors for a number of reasons — letting friends into dorms or events, moving, bringing in groceries, etc. This led to potential security risks. Because Grippy Mat has an adhesive backing and is less bulky, students can't use them to hold open doors.
Consistent Look/Aesthetics Along with safety, the maintenance team wants each facility to be aesthetically appealing — and the old rubber-backed mats simply looked ugly. Things like consistently crooked mats or mixed-and-unmatched mat colors would stand out in all the wrong ways. But the subtle aesthetic improvements from Grippy Mat made all the difference creating a uniform, neat look across every building on campus. Not only do they stay where the staff place them, but they look great because they can be customized to fit in unique layouts.
Low Maintenance: When it came to maintenance, cleaning rubber-backed mats was a physical drain and potential hazard to the staff. With each cleaning, the mats had to be rolled up and moved. Some weighed hundreds of pounds when wet, requiring multiple staffers to move them. In addition, special chemicals and processes were required to clean the rubber-backed mats. Now, because of Grippy Mat's adhesive backing and low profile, the staff can run a vacuum or floor scrubber on the floors and the mats at the same time with ease.
A campus-wide success
The switch to Grippy Mat nearly eliminated slip-and-fall incidents at Mount St. Mary's. It also created more appealing facilities, reduced product costs and produced savings in time, money and manpower.
The mission to maintain and improve the campus is never finished for the maintenance team at Mount St. Mary's. But with the addition of Grippy Mat to their safety program, they can now focus on the problems ahead of them and not the ones under their feet.
---