Facility Manager Cost Saving/Best Practice Quick Reads RSS Feed
Campus Struggles to Protect Birds from Buildings
January 18, 2019 - Contact FacilitiesNet Editorial Staff »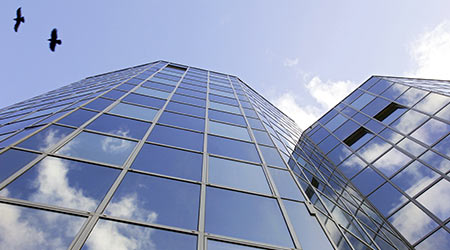 For all of the issues maintenance and engineering managers have to tackle daily, from staffing regulatory compliance to energy efficiency and technology implementation, one mundane challenge affects nearly every facility — pest management. Insects, rodents and birds seem to find endless ways to damage and enter facilities, despite managers' best efforts, as Duke University is finding out in the form of birds flying into its buildings.

Posts have popped up on a campus Facebook page about the issue, sometimes featuring photos of the dead birds, according to The Duke Chronicle. The issue has come up again three years after the Bird Window Collision Project, which tracks collisions on campus, showed that Duke's bird safety is one of the worst in the nation.

Duke naturally attracts birds because it is surrounded by heavy woods and within the Atlantic Flyway, a major bird migration path, says Nicolette Cagle, a Nicholas School lecturer who helps lead the project.

Methods of preventing collisions exist. Patterned film can be applied to glass and ultraviolet reflective glass to alert birds to glass's presence, Cagle says. The film was applied to glass in the CIEMAS building in 2015, leading to a significant reduction in bird collisions.

Despite the issues for birds, Cagle pointed out that glass facades make people feel better, reduce energy waste and are important in getting LEED certified for sustainability.

Cagle says the number of birds killed on campus each year is in the thousands, adding that in a nine-week period, it usually finds around 100 birds.
Dan Hounsell is editor-in-chief of Facility Maintenance Decisions, and Facilitiesnet.com.
---
Comments