Facility Manager Cost Saving/Best Practice Quick Reads RSS Feed
COVID-19 Forces Hotels To Rethink Offerings
July 24, 2020 - Contact FacilitiesNet Editorial Staff »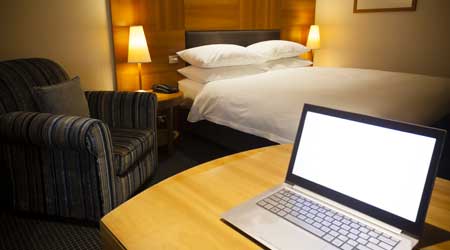 Schools have become meal pickup centers. Convention centers have turned into hospitals. Even unused buildings have been transformed into usable spaces.
The coronavirus pandemic has upended and changed many aspects of nearly all types of institutional and commercial facilities, challenging facility managers to adapt facilities, procedures and processes in order to create safe workspaces for returning workers.
Hotels across the United States have started converting otherwise empty hotel rooms into office spaces, according to Fast Company. And, in an hourly take on the Airbnb model, a startup called Globe lets people book time in a nearby empty home that can serve as a temporary office space or refuge from roommates or family. Whether people want a private space to get some work done or just to get away from their loved ones, the dropoff in overnight guests at hotels may mean a turn to alternative daytime use.
The boutique hotel office may be a particularly COVID-19-era concept, but companies are increasingly looking for different kinds of office spaces that allow their employees to work from anywhere,
"Spaces that can accommodate that more variable use, rather than having it be dedicated space for a specific company, are particularly important," says Jamie Hodari, CEO of Industrious, a short-term office space provider with locations in more than 50 cities around the United States. "I don't think this is true just during COVID—I think this is a fundamental shift that's going to be durable, allowing employees to work from anywhere."
Hotels could be a new area for growth, he says, and hotels may start thinking about making dedicated private office rooms a more standard offering. For a business traveler, Hodari says, a separate office down the hall is likely a more attractive amenity than a swimming pool or a rooftop deck.
Dan Hounsell is editor of Facility Maintenance Decisions.
---
Comments