Facility Manager Cost Saving/Best Practice Quick Reads RSS Feed
COVID-19: Commercial Office Options and Opportunities
September 25, 2020 - Contact FacilitiesNet Editorial Staff »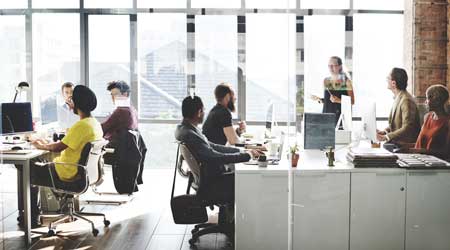 As the nation's schools, universities, and hospitals wrestle with the challenges related to reopening amid the COVID-19 pandemic, the commercial office market faces tough questions about the way the pandemic is driving – or, more accurately, putting the brakes on – demand for their offerings.
One issue driving designers and owners to rethink the operation and design of office space: Many companies are allowing employees to work from home well into next year, and this shift is making office space less desirable – a trend that might not change soon, according to Million Acres. In fact, the U.S. office market is unlikely to recover from its current sluggish state until late 2022, according to Cushman & Wakefield.
In the short term, organizations are looking outside for answers – literally. Real estate office startup WeWork is promoting outdoor work spaces, believing the idea might appeal to companies conscious of the risk of asking employees to return to work in confined spaces, according to Realty Biz News. The company, which rents out co-working space, says that more than 150 of its 843 total office locations now feature outdoor spaces capable of accommodating group meetings, individual office space and even group meals.
Many owners of commercial office developments are making a strong commitment to outdoor office space, according to ArchDaily. "The benefits of light and fresh air are pretty self-evident, and the pandemic only reinforces that," says Christopher McCartin, managing director of design and construction at real estate developer Tishman Speyer, which has been including "significant outdoor space" in all of its office developments nationwide.
Longer term, designers are envisioning key components of new and renovated commercial office buildings that will address concerns about healthy indoor work spaces, according to NPR. These components include:
• more outside air
• more hand-washing stations and hand sanitizer dispensers in high-traffic areas
• airflow systems that filter and reduce the amount of exhaled air from other people.
Dan Hounsell is editor of Facility Maintenance Decisions.
---
Comments