The Collaborator: How the Facility Manager Network Builds Connections
Jim Allen at Los Angeles County's Internal Services Department builds connections in a huge organization.
OTHER PARTS OF THIS ARTICLE
Pt. 1: This Page
Pt. 2:
Why Collaboration is Crucial for Asset Management
Pt. 3:
How to Overcome "This Is How We've Always Done It"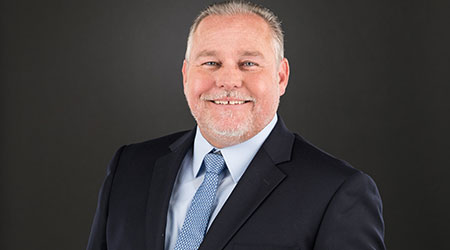 Jim Allen is always searching for strategies and devising plans to make life better for Los Angeles County residents and his staff, from figuring out a way for the 37 departments in the county to better communicate and collaborate, to using his experience in the trades to inform his decisions at the county executive level.
"I am a servant leader by nature," Allen says. "I feel part of my role is to not only serve our customers, which are our citizens and our departments, but also our team and our staff."
Allen's team is a large one. To start with, Los Angeles County is one of the nation's largest counties, with more than 4,000 square miles, 112,000 county employees and 37 departments. It is, Allen says, larger than perhaps all but seven state governments. As division manager, information technology workplace communication division for the Internal Services Department (ISD) of Los Angeles County, Allen oversees a $50 million operating budget with 54 budgeted county positions and a $20 million budget of contracted projects and operations staff.
Allen has a breadth of responsibilities that come with the title, from leading the county's efforts in shifting from legacy voice over internet protocol technologies to cloud-based unified communications technologies; to leading the final development and implementation of the countywide mobility and unified communication strategy; to leading master planning efforts for ISD information technology built environment footprint, with a focus on reducing infrastructure needs through virtualized environments, e-cloud use, and modern mobility principles.
Beyond success in one department, Allen has brought critical unity to Los Angeles County, creating a way for its many departments to operate not as individual entities but as an integrated whole, with all parties collaborating on solutions. He was on the ground level of launching the Facility Managers Network.
A common platform
When Sachi Hamai became the CEO of Los Angeles County in December 2014, Allen says it was clear the county's Asset Management Branch, which is comprised of capital programs, real estate and leasing, and master planning, needed much improvement. Hamai decided to transition it to a more holistic strategic-based organization, managing assets throughout the county for all 37 departments, Allen says.
"And one thing we recognized that we didn't have was a common platform for communication and collaboration among all 37 departments, and so it was difficult not only to disseminate information but receive feedback about what the programmatic priorities are from all those departments and then also to share best practices and experiences across departments and communicate more holistically," Allen says.
The Facility Managers Network was designed to give the county the much needed platform. Allen worked on implementing the network from January 2016 to July 2016, and he was its founding co-chairman from July 2016 to May 2018. The network included senior and executive managers from all county departments with the purpose of fostering collaboration, efficiencies and partnering in planning, development, operations, leasing, space management, budget, and administration of large facility asset portfolios.
Prior to the Facility Managers Network, understanding the programmatic needs of the 37 departments was done in a more distributed manner, through individual conversations with different departments and executive levels, Allen says. It was an approach, he says, that wasn't as broad or thorough as what the Facility Managers Network ultimately provided.
Continue Reading:

Cover Story: Jim Allen Profile

The Collaborator: How the Facility Manager Network Builds Connections

Why Collaboration is Crucial for Asset Management

How to Overcome "This Is How We've Always Done It"
---
---
---
Related Topics:
Comments