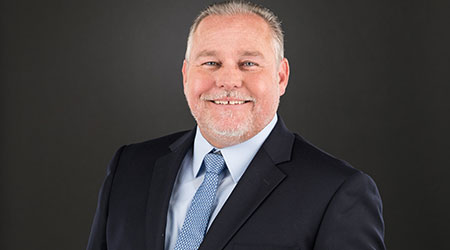 How to Overcome "This Is How We've Always Done It"
Jim Allen's penchant for collaboration and bridge-building has allowed him to win over skeptics and make changes for the better.
Pat McGee, assistant director of capital projects and facility services for the Los Angeles County Public Library — a position he took over from Allen, who had the job from 2009 to 2014 – worked with Allen as a founding member of the Facility Managers Network and on the facility maintenance standards subcommittee. The two, who have known each other for decades from working in the trades, had talked over the years about how many buildings needed more attention since most were built in the late '60s and early '70s, McGee says.
"So Jim started taking the maintenance standards that were from the early to mid '90s and looking to see what changes needed to be made for the 21st century," McGee says. "We all collaborated about how we can better maintain the buildings."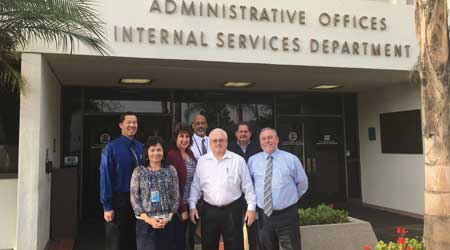 (The executive leadership team for Facilities Operations Service while Jim Allen served as acting general manager. During this time a new division was established to support the Facilities Reinvestment Program and ongoing facility condition assessment.)
McGee says Allen is good at bringing people together so that everyone has input for a collective effort. He calls Allen "a blessing in disguise" for the office of the Los Angeles County CEO and the Internal Services Department, saying Allen takes pride in his work and in getting things accomplished for the county.
"There's not much he misses," says Allen. "He's caring and he's hands-on. He's a perfectionist."
Scott Minnix, the director of the county's Internal Services Department and whom Allen previously reported to when Allen was acting-general manager of Facilities Operations Service, says Allen has the ability to see what work needs to be done and figures out a way to do it, even when decisions may ruffle some feathers, including political feathers. Allen can explain, for example, why fixing a library has priority over fixing city hall or a jail, Minnix says.
The 37 county departments each have heads — essentially CEOs — with their own priorities, Minnix says. Add the craftspeople who work in the buildings of those 37 departments and who don't want to see those buildings deteriorate and Allen has many people and priorities to balance, Minnix says.
"He has an amazing work ethic," Minnix says. "He's first in, last out, and definitely a customer oriented and aligned person. He has a can-do attitude."
Minnix credits Allen beginning in the trades as one reason Allen is so good at his job. Still, being a great craftsperson isn't enough when working with so many departments because someone in Allen's position needs to see the whole picture and not just an individual piece, Minnix says.
"And he's able to do that," Minnix adds.
Overcoming historical biases
Indeed, Allen says one of the challenges he faced with the Facility Managers Network was the somewhat jaded perspective the departments had. With Los Angeles County being the size that it is and each of the 37 departments having their own budgets, as well as access to some other funding resources through the county's CEO office, over time there was a lack of enthusiasm for partnering and supporting each other because each department had its own goals, he says. Overcoming the historical biases of collaboration in the county was critical, Allen says.
"One of the things that I do in my leadership style is I'm very collaborative," Allen says. "I like to work with people, and so I built a very strong network of knowing the facilities executives throughout the county. And so I think that was directly related to the success. They trusted me, they understood my motivations and goals, and they knew we had the support of the CEO."
What pleasantly surprised Allen was the level of participation in addressing some long-standing issues in the county. For example, the county had abatement and hazardous condition issues in different areas, none of which had the same recommendations for a resolution. A containment issue in one facility would be a $10,000 project and what seemed to be a very, very similar situation in another facility would be a $100,000 project, he says.
"And it was scary to facility managers, especially based on their experience, why that was the case," Allen says.
A subcommittee within the Facility Managers Network was formed to address the situation, Allen says. Industrial hygienists from the county, consultants, and facility experts sat down and drafted a document about why situations are addressed in the manner they are, why projects have such a wide cost range, how different hazardous conditions can be treated and what the standard must be to have an appropriate work environment.
"I was really impressed about a year in when I and some of the other folks that were managing the network at the time could sit back and look and say, 'Wow, people from (the county's CEO office) participated in this, and years ago they would look at this and say that it was a departmental problem and the department should go fix it,'" Allen says. "And now they're part of that solution. It really bridged the gap from our CEO group being perceived as outside and us having to advocate to them for what we needed to the group being part of the solution. It felt like a more collaborative, supportive environment."
Desiree J. Hanford, a contributing writer for Building Operating Management, is a freelancer who spent 10 years as a reporter for Dow Jones. She is a former assistant editor of Building Operating Management.
Continue Reading:

Cover Story: Jim Allen Profile

The Collaborator: How the Facility Manager Network Builds Connections

Why Collaboration is Crucial for Asset Management

How to Overcome "This Is How We've Always Done It"
---
---
---
Related Topics: