Preventive Maintenance, Scheduling Meetings Among Important Issues
OTHER PARTS OF THIS ARTICLE
Pt. 1:
5 Steps to Achieving Maintenance Operations Utopia
Pt. 2: This Page
Pt. 3:
Top Maintenance Goal: Make Technicians Better Firefighters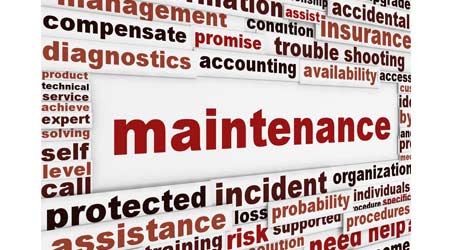 To achieve this maintenance utopia I've described, here the top five issues to tackle within your organization:
5. Develop a preventive maintenance (PM) program. Listing the PM program fifth might shock some of you in the maintenance world, but there are several other more important items to tackle first in order to bring organization to the existing chaos.
Start your PM program slowly and methodically with critical equipment and systems — life-safety, utilities, power-distribution, and major HVAC system. Don't get too detailed in the beginning. Keep the process simple. You can always go back and improve the PMs as time allows.
If you are struggling to find the time and personnel, have technicians begin very simply with what I call drive-by PM inspections. Simply look, listen, and touch the equipment. Technicians can make notes that can become work requests later. Remember the perfection and progress comment earlier.
4. Ensure accurate written work orders for all work. An accurate work order history is important because it tells the maintenance story for each piece of equipment. Technicians' work order information should include: work hours, parts used, fault codes, activity codes, work types, vendor costs, craft codes, and a brief description of what was done and why. With an accurate history, managers can predict the maintenance future for each asset and piece of equipment.
Charge all work back to the particular piece of equipment or system, not the building. This tactic enables you to drill down later to determine what is really happening to equipment. This sounds like a simple task, but during my assessments, I find that only a few organizations do it properly. Managers and front-line supervision must be disciplined in this effort if there is any hope of moving forward out of the chaos.
3. Hold daily or weekly work planning and scheduling meetings. I guess it is good that some things never change in life, but this one should. I have been in this business for more than 36 years and involved in community organizations, churches, and other groups. The one common component we can always improve on is communication. Even bad news is better than no communication at all.
In the past month, I've worked with four large organizations, some with hundreds of employees. Not one of them held regular, scheduled maintenance planning and scheduling meetings. It doesn't matter to me if you have one maintenance employee or 500. You still need to have a regularly scheduled meeting to discuss what you are doing now and in the future.
These meetings should always be on the same day of the week and same time of the day. Attendance is required unless a technician has a doctor's note saying a major organ was removed. Always have an agenda that covers what happened last week, what's going on this week, and the plans for next week. Once you get going with these meetings, you should begin to measure how well you are planning your work by using a schedule compliance chart. Set a goal of 95 percent accuracy.
Continue Reading:

Management Insight: Michael Cowley

5 Steps to Achieving Maintenance Operations Utopia

Preventive Maintenance, Scheduling Meetings Among Important Issues

Top Maintenance Goal: Make Technicians Better Firefighters
---
---
---
Related Topics:
Comments