Dust Generated from Concrete Tools Gains Attention of OSHA
Part 2 of a 3-part article on concrete-repair power tools
OTHER PARTS OF THIS ARTICLE
Pt. 1:
New-Generation Concrete-Repair Power Tools Seek to Maxmize Productivity
Pt. 2: This Page
Pt. 3:
Cordless Units Emerge as Popular Trend for Concrete-Repair Tools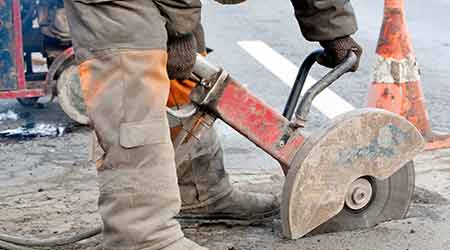 Limiting workers' exposure to concrete dust generated by power tools has received more attention from the Occupational Safety and Health Administration in recent years. As a result, manufacturers have redesigned their latest offerings to address the issue.
"Not only is it important to reduce the jobsite cleanup, but when you're working that close to the concrete and kicking up all that dust, you're always going to breathe in some of that silica dust," says Mitch Burdick of Bosch Tools. "Maybe (it's) not enough to reach harmful levels, but it is uncomfortable. It's beneficial for reducing unnecessary or time-consuming cleanup, but it's obviously helpful to the worker."
To limit dust created by drilling holes and grinding concrete, manufacturers are focusing on upgrading dust-collection systems and collector guards to reduce the potential for dust inhalation.
"If you're doing in-house maintenance and you've got to do a quick hole with a rotary hammer, instead of having to come get the vacuum out and cleaning up this whole area that you're working on, you can use a lot of the dust-collection systems that we're seeing get more popular out there today," says Andrew Plowman of Milwaukee Tool.
When deciding whether to specify a dust-collection system and general cleanup vacuums, managers need to consider several differences.
"Dust-extraction vacs focus on better air-flow suction, have better or advanced cleaning systems and allow you a HEPA filter option," Burdick says.
In specifying tools for concrete repairs, managers also need to focus on flexibility and performance. As a result, many managers are moving away from a one-size-fits-all mentality and opting to specify different tools to match specific tasks.
"There are little idiosyncrasies between the hammers," Plowman says. "It's not just get the biggest one and (hoping) that will do everything. The smaller hammer will drill a lot quicker for smaller applications, and it will also be about a third or a fourth of the weight."
Technicians want power tools that offer less vibration and are more comfortable to operate, but specifying low- or no-vibration tools can mean sacrificing some performance.
"You have to combine low-vibration tools with performance," Burdick says. "It's easy to take vibration out of a tool because you can just lower the performance, but the consideration is not just whether it's low vibration but what tool gets the job done the quickest with low vibration."
Continue Reading:

Power Tools

New-Generation Concrete-Repair Power Tools Seek to Maxmize Productivity

Dust Generated from Concrete Tools Gains Attention of OSHA

Cordless Units Emerge as Popular Trend for Concrete-Repair Tools
---
---
---
Related Topics:
Comments