You Might Like
On FacilitiesNet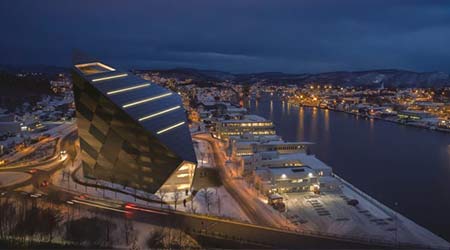 Energy Positive Office Highlights 2020's Most Anticipated Buildings
From a decade-late airport in Berlin to a billion-dollar Egyptian museum, a recent CNN piece profiles the coolest, most impressive new buildings set to open in 2020.
For facilities and engineering folks, the most interesting building on the list may be an "energy positive" project in the small town of Porsgrunn, Norway. The 11-story, 70,000-square-foot Powerhouse Telemark office building is fully coated in photovoltaic material. To maximize the building's energy-harvesting power and optimize the material's solar exposure, the designers created a unique diamond shape for the building. This design also gives the majority of building occupants access to natural daylight, which also greatly reduces energy use.
The developers for this building hope it will serve as a model for energy efficient design all over the world. "I hope we will be plagiarized and copied, replicated in all seven continents," said Norwegian real-estate developer Emil Eriksrød.
The building's designer, Norwegian firm Snøhetta, is at the forefront of energy positive design. It has committed to design buildings that produce more energy than they use. But energy positive is simply the starting point for the firm. "For the next 10 years, we have the ambition of having projects on the table that will become CO2 negative in the cradle-to-cradle definition," said the firm's founder, Kjetil Thorsen. "This means we have to understand the embodied energies and all the materials used."
This post was submitted by Greg Zimmerman, executive editor, Building Operating Management and FacilitiesNet.com. Read his cover story about Chris Walinski and his mission to make open offices flexible and productive.
---