You Might Like
On FacilitiesNet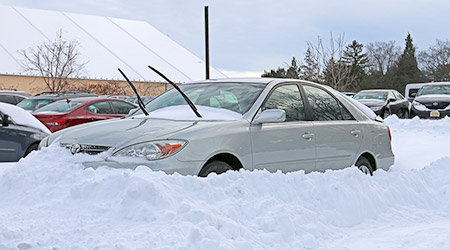 Winter Woes: Snow and Wind Threaten Buildings
Maintenance and engineering managers do all they can to protect institutional and commercial facilities and their key components, including, roofs, rooftop equipment, windows, facades, and plumbing systems. Then nature takes its turn.

It seems that no matter how much managers and their staffs do to prepare and protect, wind, rain, hail, hurricanes, tornadoes and snow all take a heavy toll on facilities. Winter winds and snow can take an especially heavy toll over the long winter months, as the Eastern United States is finding out these days.

Unforgiving cold has punished the eastern third of the United States for the past 10 days. But the most severe winter weather yet will assault the area late this week.

First, a monster storm will hammer coastal locations from Georgia to Maine with ice and snow. The exploding storm will, in many ways, resemble a winter hurricane, battering easternmost New England with potentially damaging winds in addition to blinding snow, according to an article in The Washington Post.

Forecasters are expecting the storm to become a so-called bomb cyclone because its pressure is predicted to fall so fast, an indicator of explosive strengthening. The storm could rank as the most intense over the waters east of New England in decades at this time of year. While blizzard conditions could paste some coastal areas, the most extreme conditions will remain well out over the ocean.

Read: Keeping staff safe during snow removal operations

An arctic blast also ushering in the New Year in the Southern United States, and it is punishing the region's infrastructure, including buildings. Residents of Jackson, Miss., awoke to wintry scenes, from frozen puddles to icy tree limbs and the usual problems that plague the city's aging infrastructure. It may be 2018, but Jackson's infrastructure problems persist. On the first day of the New Year, downtown high rise residents awoke to yet another water main break, according to a Jackson television station.

"Before I got here it was the worst because when I hear water and our properties it's never a good thing for us," says Craig White, maintenance supervisor at the Standard Life Building. He got a rude awakening the first day of the new year with a call about a water leak at the downtown apartments.

"I got dressed and came down, and my partner was already here waiting on me, and I was glad to see this instead of inside the building," said White.

The maintenance supervisor informed the city of the break as water continued to rush from the sidewalk throughout the morning. Thankfully, residents in the 76 units still had water. Nearby, another water main break appeared at the intersection of West and Pascagoula streets.
Read: One department upgrades plumbing systems to prevent problems.

In nearby Florence, ice cascades downed tree limbs and a fence beneath the Briarhill Road water tank. Florence Public Works officials say controllers froze at both tanks on Briarhill and West Main Street. Water storage tanks overflowed leaving behind a wintry scene as temperatures hovered in the teens to 20s most of the morning.

This Quick Read was submitted by Dan Hounsell — dan.hounsell@tradepressmedia.com — editor-in-chief of Facility Maintenance Decisions.
---