You Might Like
On FacilitiesNet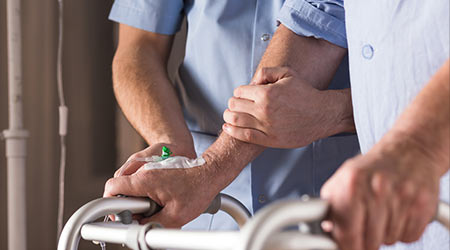 Flu Focus: Health Care Facilities Prepare for Outbreaks
Maintenance and engineering managers face an array of challenges that can affect institutional and commercial facilities, from power outages and floods to snow storms and tornadoes. Among the seasonal issues managers also must account for is influenza.

This year, influenza activity has sharply increased, according to the Centers for Disease Control and Prevention, and health care facilities are among the hardest hit in the early stages of the season.

The spike in flu activity that is sweeping across the county at an alarming rate is forcing many nursing homes, assisted living centers and residential rehab centers in Southern California into lockdown mode as the best way to protect their medically vulnerable residents, according to an article in The San Diego Union-Tribune. That was the case at Poway's Villa Pomerado Convalescent Care Center recently after testing confirmed that four of the facility's 92 residents tested positive for influenza.

The decision was made quickly to shut down the main places where residents congregate for meals, exercise and entertainment, forcing everyone to stay in their rooms until seven days after symptoms first appeared.

Read: Steps to protect facilities from the flu

Villa Pomerado is among the 55 congregate living facilities that had reported flu outbreaks to the county health department as of last week. Miles away from Villa Pomerado, Point Loma Rehabilitation Center in San Diego was in a similar lockdown mode.

Dr. Mike Wasserman, chief of Rockport Healthcare Services, the company that runs Point Loma Rehab, says that his workers began proactively testing residents after one patient was diagnosed, and discovered 10 more who, though they were not showing classic symptoms such as fever and cough, nonetheless tested positive for influenza infection. Shutting things down, he said, is simply standard procedure.

"You have the most complex and the most frail people in our communities living in these facilities. They're the most vulnerable to begin with, and we have to be hyper vigilant," Wasserman says.

Learn: Research can help managers protect facilities from flu.

The flu has killed 45 people since July 1, according to the most recent weekly report from the County of San Diego's Health and Human Services Agency. The dominant strain in circulation this year is known to affect older people more severely, a fact that is showing up in the numbers. The average age of this year's flu victim is 82, according to county records.

Because congregate living facilities feature shared spaces such as dining halls, recreation rooms, rehabilitation gyms and patios, the nation's public health systems treat them much differently than single-family homes or apartments. County public health rules require group-living organizations to file a report any time they have two or more flu cases. One must be confirmed by a test but the second can be simply suspected due to the presence of flu symptoms.

While just two cases may seem like scant reason to curtail the movement of whole communities, Lynette Brammer, who heads the Domestic Influenza Surveillance Team for the U.S. Centers for Disease Control and Prevention, said that there is plenty of evidence that waiting for more cases to appear can be devastating when the flu appears in an elderly population already coping with other illnesses.

This Quick Read was submitted by Dan Hounsell — dan.hounsell@tradepressmedia.com — editor-in-chief of Facility Maintenance Decisions.
---