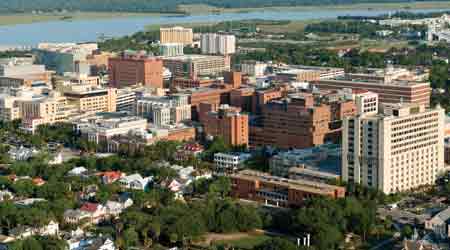 Savvy Decisions Prevent Flooding Disaster at Medical School
Part 1 of a 5-part article on emergency preparedness
Officials with the Medical University of South Carolina knew the region's topography was not their friend.
"They don't call us the low country for nothing," says David Dement, director of facilities with the Medical University of South Carolina in Charleston. "We sit very near the mean sea level, so when you get exceptionally high tides — above the normal mean sea level tide — all the storm water systems in the entire peninsula stop working."
The flood threat was all too real for Dement and his team, including Brian Fletcher, emergency operations manager with the medical university, a 709-bed facility that sees 32,000 inpatient admissions annually and is the only level one trauma center in the area.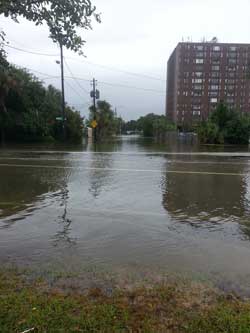 Flooding around the Medical University of South Carolina following a storm in 2015. Photos courtesy of MUSC.
"The eye-openers were Hurricane Katrina and (Superstorm) Sandy," Dement says. "After those events, there were hospitals that closed and never reopened because they were never able to respond to building failure."
Those catastrophic events, coupled with their own experiences with tropical storm surges and regional flooding that resulted in close calls of near total system failure, prompted Dement, Fletcher and their team to take the initiative. They began planning pre-emptive measures — a $40.5 million series of upgrades that would relocate and protect key facility systems and components from floodwaters. Little did they know that the measures would face the toughest possible test almost immediately.
Continue Reading:

Cover Story

Savvy Decisions Prevent Flooding Disaster at Medical School

Vital Hospital Components Considered Vulnerable to Flooding

New Energy Plant Brings Important Infrastructure Together

Painstaking Process Bringing New Medical College Energy Plant Online

Flood-Protection Upgrades Pass First Significant Test
---
---
---
Related Topics: