Flood-Protection Upgrades Pass First Significant Test
Part 5 of a 5-part article on emergency preparedness
OTHER PARTS OF THIS ARTICLE
Pt. 1:
Savvy Decisions Prevent Flooding Disaster at Medical School
Pt. 2:
Vital Hospital Components Considered Vulnerable to Flooding
Pt. 3:
New Energy Plant Brings Important Infrastructure Together
Pt. 4:
Painstaking Process Bringing New Medical College Energy Plant Online
Pt. 5: This Page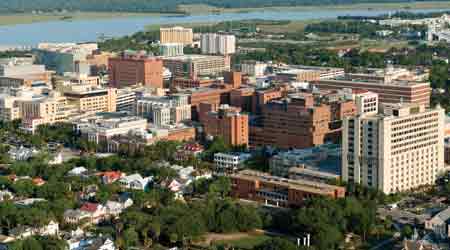 The flood-protection upgrades and construction projects are delivering benefits to the organization that go beyond protection against floods. They are delivering savings in the form of both lower costs and less maintenance work.
For example, consolidating domestic water pumps has reduced the pump units technicians need to maintain from six to three, and the consolidation of medical gas pumping systems has reduced vacuum pumps from six to four and medical air from six to three. Dement estimates that the department is saving $31,416 annually in technician labor as a result of the projects and overall is saving $75,732 annually.
The medical university completed the projects in 2014, and almost immediately, nature put them to the toughest test.
In October 2015, historic rainfall resulted in 15-20 inches of rain throughout the region and localized amounts of more than 25 inches, mainly in the Charleston area. Flash flooding was prevalent and led to significant damage to numerous properties and roads. The record rainfall was coupled with equally unprecedented, higher-than normal tidal activity.
For the medical university, the foresight to protect key equipment and systems from floodwaters paid off in a big way.
"The projects absolutely performed as intended," Dement says. "What they really did was allow us to take our focus off things that would have consumed an enormous amount of energy. If we had not done the upgrades when the event had occurred, we would have spent an enormous amount of energy and money to try to protect stuff that was still in the flood zone.
"Because of this project, I could turn all of the energy and resources away from doing that. I didn't have to worry because my generators are five stories up now. My boiler is two stories up now. I don't have to worry about that. I can turn my attention to the building and dealing with patient care needs and clinical needs. The upgrade changed the dynamics of how we approach that entire issue."
Continue Reading:

Cover Story

Savvy Decisions Prevent Flooding Disaster at Medical School

Vital Hospital Components Considered Vulnerable to Flooding

New Energy Plant Brings Important Infrastructure Together

Painstaking Process Bringing New Medical College Energy Plant Online

Flood-Protection Upgrades Pass First Significant Test
---
---
---
Related Topics:
Comments