Preparations Before Hurricane Sandy Helped Cushman & Wakefield Quickly Bring Buildings Back Online
As Hurricane Sandy formed off the Atlantic Coast, most of the models being studied by the crisis management team at Cushman & Wakefield showed that the storm would pass safely offshore. But one model consistently showed the storm turning west, merging with a second system and making landfall somewhere on the Mid-Atlantic coast. As the other models began to fall in line with that prediction, it quickly became apparent that low-lying areas of New York, including Cushman & Wakefield's 7 million square feet of managed space in Lower Manhattan, faced potentially historic flooding.
To handle that, says Jim Rosenbluth, director, crisis management, the company began contracting with vendors to help with tasks such as mechanical and electrical work, elevators, dewatering, and cleaning. In addition, Cushman & Wakefield lined up generators and pumps as well as pre-positioning large quantities of cleaning supplies and disinfectants just outside of the anticipated flood zone.
"We put all of the logistics in place to be able to recover quickly," he says, including staffing each building with engineering personnel — given strict instructions to either move higher in the buildings or evacuate completely if conditions became too severe — before the storm arrived to be able to address problems as they occurred and head off potential transportation difficulties. It turned out to be a wise decision.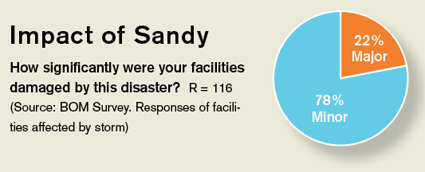 "Even if we had needed to get people down there after the storm passed, we would not have been able to or it would have been very difficult," because of mass transit being shut down due to flooding, he says. "But because we kept crews at the properties throughout the storm, we already had our critical personnel in place to begin restoration operations."
All of the preparations paid off. Of the four Cushman & Wakefield-managed buildings that flooded, two were fully back online within 10 days; the third was back up within two weeks and the fourth within three weeks.
As Rosenbluth says, the key to being back up and running so soon was anticipating the largest challenges very early on and being prepared to respond to them right away.
"In many cases we had to replace electrical switchgear and panels, and rewire, and everything else, but that's what we expected to have to do," he says. "We already had the personnel lined up to do that and the materiel arrived shortly thereafter."
– Casey Laughman, managing editor
---
---
---
Related Topics:
Comments