Safety vs. Security: Biggest Issue in Choosing the Right Opening
Part 2 of a 2-part article on why careful consideration for doors and door hardware is a critical component of facility life-safety.
OTHER PARTS OF THIS ARTICLE
Pt. 1:
Doors and Door Hardware Can Be The Difference Between Life and Death in an Emergency
Pt. 2: This Page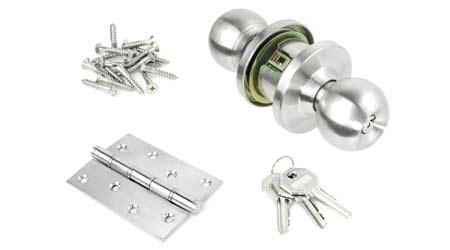 The biggest issue in choosing the right opening is the push-pull of safety versus security, meaning that a secure opening is locked up tight, but life safety requires that people be able to get out of a building.
Clancy stresses that life safety is more important than aesthetics and functionality. If something goes wrong, or if doors are not compliant, people may die. For example, it is not uncommon to hear about fires where people are injured or die, especially in countries without strict fire codes or where building owners break the law. "Codes and standards are reactive, not proactive, and they are written in the blood of victims," Clancy says.
The Triangle Shirtwaist Factory fire in Manhattan, which killed 146 people in 1911, inspired the first modern fire code in the United States, but even today people inadvertently create dangerous situations by not adhering to existing codes or not maintaining doors and hardware.
"Over time, doors are improperly modified, so that they do not function in the way they were intended to function," says Clancy. For example, pairs of doors in corridors may be self-closing to create a passive fire barrier. However, if a door gets a lot of use, someone may have the notion of using a door stop to keep it open. Should a fire break out, the door is useless as a fire barrier. "It will not close automatically, and then smoke floods the next compartment," says Clancy. Fire doors are supposed to close and latch, then the sprinklers come on to reduce the ambient temperature of the air and drive the smoke particles to the ground. "But without compartmentalization, the whole system falls apart," says Clancy.

The result can be deadly. "Catastrophic opening failure is when a fire door doesn't close or latch properly and allows the spread of fire or smoke," says James D. Caron, engineering detailer for Kamco Supply Corp., or "when an exit device fails and doesn't allow proper egress to evacuate a building in an emergency situation."

NFPA 80, promulgated in 2007, requires annual fire door inspections of all commercial buildings, which will help keep facility managers compliant and give them a roadmap for maintenance, Clancy says. While an interior office door may stand for 30 years, a door on an egress path that is self-closing, which might have a panic device, will experience abuse and stress and will eventually come out of adjustment and be non-complaint. "Seals have to be replaced periodically," Clancy says. "For example, the painter comes through and paints the smoke seal. Clearances have to be correct in order for the door to seal.

Over time, they come out of adjustment. You may have to replace hinges or ball bearings." A classic issue that arises with closers is air balance, which changes from winter to summer in some parts of the country, so valves in the closer may have to be adjusted.

"The reason NFPA added the requirement (for fire door inspections) is because people were not properly maintaining their fire doors. There are facilities that are 30 or 40 years old and their fire doors have never been adjusted," says Clancy. An annual inspection forces facilities to stay on top of door maintenance.

When Clancy goes out for an inspection, two common problems he finds are that doors have come out of adjustment, or the smoke seal is missing, torn, worn out, or damaged. "Those are two things that the maintenance staff can adjust and remedy," he says. For more difficult problems, a facility manager can hire a subcontractor.

Caron recommends that facility managers adhere to a schedule that allows for a review of every opening in the building. "They can do it in small blocks, but it is important to do maintenance on doors, frames, and hardware," he says.

"Get a company that has a certified fire door inspector," Caron advises, "and re-evaluate every fire-rated opening to ensure there are no extra holes and gaps. Make sure doors close and latch correctly.

Ensure that the door is still a passable fire door and that the door, frame, and hardware are operating correctly." Of course, problems in fire doors should be attended to immediately because these doors protect lives.

When new hardware or doors are being installed, facility managers should consider the services of a good consultant, whether that person is an architectural hardware consultant, a certified door consultant, or an electrified-hardware consultant.

Consultants are certified by various institutes and are educated in a range of building codes, says Daniel Heinz, president of Nelson Holland, Inc. Putting the wrong hardware on a door can make it malfunction and might create a code violation.

While facility managers can't be expected to possess all the expertise needed to ensure the safety, security, and durability of openings, they must understand what is at stake in maintaining doors and hardware, and they should call on those with greater expertise — both inside and outside the organization — to keep their equipment up to snuff.

Maryellen Lo Bosco is a freelance writer who covers facility management and technology. She is a contributing editor for Building Operating Management.
Email comments and questions to edward.sullivan@tradepress.com.
Continue Reading:

Doors/Door Hardware

Doors and Door Hardware Can Be The Difference Between Life and Death in an Emergency

Safety vs. Security: Biggest Issue in Choosing the Right Opening
---
---
---
Related Topics:
Comments