Facility Manager Cost Saving/Best Practice Quick Reads RSS Feed
Historic L.A. Memorial Coliseum Gets $315 Million Renovation
November 18, 2019 - Contact FacilitiesNet Editorial Staff »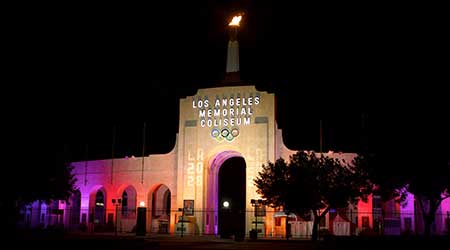 Renovations of institutional and commercial facilities are rarely simple. Add a layer of historical significance to the equation, and the challenges can seem complex beyond belief. Such was the scenario facing facility managers, architects and contractors charged with renovating the Los Angeles Memorial Coliseum. Since opening in 1923, the coliseum had lost a bit of its shine, so giving the 96-year-old building a modern twist necessitated much more than a quick polish.
The $315 million renovation required architects, building engineers, and sound engineers to revamp the modernity of the stadium while creating a brand-new, seven-story premium tower without losing a single piece of the venue's historic stone façade, according to Popular Mechanics.
The Coliseum — next door to the campus of the University of Southern California and home to USC football, temporary home to the NFL's L.A. Rams, and past host of two Olympics, the World Series, Super Bowls, and the Pope — oozes history. To allow one of the nation's most decorated stadiums to continue its traditions, USC officials knew that not only did the venue need a refurbishment. It also demanded a complete rethinking of premium space, as a 3,000-capacity Scholarship Tower had to open in time for football in the fall of 2019.
The entire stadium also received a technological overhaul, from power throughout to HVAC needs in the Scholarship Tower, and from mechanical system upgrades to a WiFi system across the property, a first for the Coliseum.
With an original goal of providing WiFi throughout the stadium, the needs only grew from there. That included finding the correct way to route all services in the Scholarship Tower within the low-ceiling voids created by the 101-foot height restriction and sightline needs, and getting the proper power to the right place in the venue.
Dan Hounsell is editor-in-chief of Facility Maintenance Decisions.
---
Comments