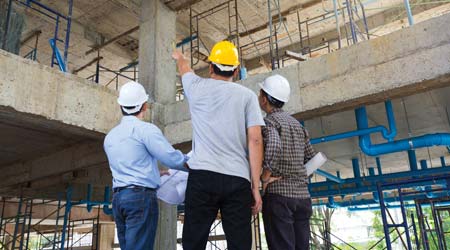 How to Set Your Construction Project Up for Success
No construction project ever goes perfectly, but follow these tips to increase your chances of an on-time, on-budget building.
It might be said that successful construction projects are all alike, but every difficult construction project is difficult in its own way.
Of course, no project ever goes totally as planned. But the common factor in successful ones is constant communication and openness between the building owner and the contractor — and without that, there is no end of ways for things to go wrong.
"Project success revolves around open and honest communication," says Ron Jones, senior principal at Lamar Johnson Collaborative. "Projects are people-driven. It boils down to team chemistry, whether it's good news or bad." If it's the latter, "you need open discussion to solve the problem, not pointing fingers or assigning blame."
All the right people
One key to success is getting all the right people involved as soon as possible, says Turner Burton, president of Hoar Construction — building owner, architect, engineer, contractor, and anyone else who may be necessary.
That early involvement can lead to a smooth handoff from architect/engineer to the construction manager, ensuring a seamless transition from design to construction. "For fast-paced projects, knowing the CM's construction schedule earlier in the process can inform the A/E's issuing of bid packages so that the long lead parts of the project (structural, major mechanical, and electrical equipment) can be bid earlier while the interior design is still being developed," says Mia Blanchett, national public market sector leader with HGA.
The earlier the construction firm is involved in the project, the better. Ryan Moss, project director for McCarthy Building, says that his firm prefers to work with the design team, providing feedback on costs and practicality as plans are drawn, "so the (building owner) knows how the costs are doing compared to their budget." It's important to have up-to-date cost estimates before subcontract bids come in, which vary by region, because "in certain areas of the country, construction is booming, which is going to inflate the price," says Moss.
Many institutions have contractors that they know and work with on a regular basis. If a building owner is starting the process from scratch, look for a contractor that has experience with similar projects — particularly if it is something specialized like a healthcare facility or a research lab. A construction firm with experience building an auto plant might not be the best choice to build a pharmaceutical plant, Jones says. The building owner should insist that the contractor demonstrate it has the staff and expertise in a particular area, Moss says.
In selecting an architect, Mark Potter, director of project management for SmithGroup, recommended that building owners find someone who will "understand your unique problem and create a solution to resolve it." And as the process goes on, "you're all going to have conflicts, but everyone has to figure out a way to resolve them rather than protecting themselves." Many firms are qualified to do the work, he says, but fit and communication may well be the deciding factors.
"Team chemistry is such a big part," Burton says. "It's a long process and a major investment that (building owners) are making."
"Some projects last a long time, you spend a lot of time in meetings together, and it ends up being a relationship," Blanchett says. "So ask yourself if their personality is a good match, and can you envision spending a lot of time with them?"
Continue Reading:

Construction

How to Set Your Construction Project Up for Success

Construction Success: Proper Planning, Good Communication, Right People
---
---
---
Related Topics: