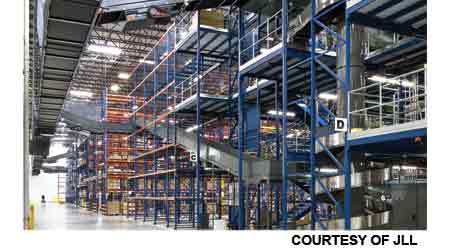 Amazon Leading the Pack in E-commerce Warehouse Design
Part 3 of a 5-part article exploring big changes in warehouse design, technology, and market
Amazon has been leading the pack in e-commerce, as well as e-commerce warehouse design. Its warehouse template: 1 million square feet and about 1,300 to 1,500 employees, with the workforce at least doubling at Christmas, Brown says. Most of the major retailers, including Walmart, CVS, Macy's, Home Depot, and Nordstrom, as well as more locally based companies, have also joined the move to dedicated e-commerce facilities. Another factor, Trees adds, is the concern of some retailers that profit margins are so thin selling through Amazon that they need to be sure they have their own channels.
The Amazon statistics are telling. The company, according to Brown, is closing in on 100 distribution centers in North America if you include projects in the pipeline and the new Amazon Fresh warehouses, which are much smaller and contain freezer and cooler space for same-day grocery delivery. A few years ago, he says, Amazon had about 20 million square feet of warehouse space for e-commerce fulfillment. Now it's closing in on more than 80 million square feet, having averaged 15 to 20 million square feet of new distribution space annually in the last four years. It's an amazing amount of square footage for one player, Brown says, and it's almost all new construction. Amazon's preferred developer, he adds, can now in many cases construct a million-square-foot warehouse in five months.
The key to the growing e-commerce warehouse market, Brown says, has been Amazon's decision that creating customer-convenience capabilities — i.e., for same-day or next-day delivery — will trump all. "And that's what has been driving the market for the last five years — people realizing that Amazon has only built up steam in their sales the quicker the deliveries were happening.
"They really became the model," Brown says. "Everyone in the retail world in the last five years has figured out that if you don't get going with creating your omni-channel capabilities, creating your e-commerce platform, you're in trouble. So all these stores have shifted their capital expenditure budgets that in the old days would be about opening new stores, to creating the distribution chain. And what it's come down to is that for the last five years, the U.S. has averaged about 60 million square feet of industrial growth annually, with half or more of that each year coming from e-commerce alone."
All of the retailers are trying to meet the same consumer demands from unloyal online shoppers who have an endless amount of options, and that presents a challenge of balancing service and cost, Marshall says. Retailers must weigh when the customer wants to get a product versus a cost that ensures they're not overspending on their supply chain. "The vast majority of retailers," he says, "are weighing this whole cost-versus-service equation and trying to think through the best way that you can balance getting a product to a client or consumer (in a way) that meets their expectations, because if you can't, they'll move on to another retailer."
The idea of shoppers having both the brick-and-mortar and online options is the new norm and not a fad, Marshall says. Online sales as of last year were only 7 percent of total retail sales, and that number will increase, he thinks. During Black Friday in 2015, overall retail numbers were up but mainly because shoppers boosted e-commerce numbers by 10 percent, while the physical-stores number declined about 6 or 7 percent, Brown says.
Statistically, the "new warehouse" sector is still quite small — less than 9 percent of the total U.S. warehouse/distribution inventory, according to Jason W. Tolliver, vice president at Cushman & Wakefield — but a lot more is on the way. "New" in this case means recently constructed first-generation buildings that are e-commerce-capable (such as providing high ceilings); "old" is everything else.
"That being said, in recent years, as e-commerce has accelerated and driven profound changes in the world of industrial real estate, these types of facilities comprise over 27 percent of the warehouse product delivered (2010-2015) and 32 percent of the warehouse space currently in the pipeline," he says.
Marshall says many of the new warehouses are being built by private and public REITs.
Continue Reading:

Warehouses

E-commerce Driving a Revolution in Portion of Warehouse Market

A New Mission and Agility for Retail Warehouses

Amazon Leading the Pack in E-commerce Warehouse Design

Stock of 'Old' Warehouses Tries to Holds Its Own

Future of Warehousing Could Include Wave of Smaller E-commerce Centers
---
---
---
Related Topics: