Understand The Legal Issues of Adding Data Center Backup Power
Second part of a four-part article on best practices for adding power in data centers.
OTHER PARTS OF THIS ARTICLE
Pt. 1:
Considerations For Adding Backup Power To An Existing Data Center
Pt. 2: This Page
Pt. 3:
Bring in IT Early and Often When Commissioning New Power Reliability Equipment
Pt. 4:
Should FMs Add a Second Utility Feed For Added Backup Power?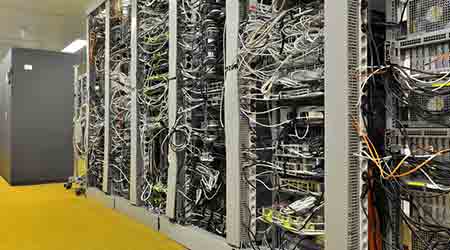 ©Jdanne
Legal issues also have to be considered when adding backup power. "The property has to be zoned so that there is enough space for the generators," says Mark Evanko, principal - engineer, Bruns-Pak. "You can't put in a generator that will be disruptive from a noise standpoint, if there are regulations about noise. Fuel storage is also a challenge, since the diesel fuel must be stored on site.

"The other challenge is that once a generator has been installed it must be tested and commissioned," Evanko says. "If the equipment is not tested frequently, it may not operate as intended in the event that something happens." But there are regulations about emissions from emergency generators, and regulations are getting stricter.

Generators can run on diesel, gasoline, propane, or natural gas, and fuel type and its availability are crucial considerations in selecting a generator. "Natural-gas or propane-powered engines cannot create as much horsepower as gasoline units, and, therefore, your electrical load capacity must be de-rated accordingly; however, the storage life of these fuels is not an issue," says Smith. "De-rating a generator means you are paying for capacity you can never utilize," he says. Another consideration is that natural gas is almost always shut off during a widespread disaster such as an earthquake, which could leave the facility without power.

Gasoline has a much shorter storage life than diesel (24 months for diesel and 12 months for gasoline), is much more flammable, and "carries less torque-producing power per unit, making gallons of fuel required per hour higher at a given load," Smith says. "Diesel generators require more maintenance and must have clean and moisture-free fuel, but generally operate at lower fuel consumption per hour at a given load."

It is possible to increase backup power capacity with more battery time. That approach "will be helpful if your generators happen to fail to start," Smith says. But just adding batteries can be risky. While they can keep servers running, they won't be able to power cooling equipment; the result can be that the data center environment will exceed temperature limits, which can result in failures.

Getting the Job Done
The process of upgrading a live system requires two power sources, so that each supply can be shut down separately, says R. Stephen Spinazzola, division manager, Baltimore buildings department, RMF Engineering. "One way to upgrade is to switch all the equipment to one side of the power source and then shut down and upgrade the alternative side. The process would then be reversed to upgrade the first side," he says.

Another way that backup power capacity can be increased in an existing data center is to add a second power distribution system that picks up half the floor currently running on the existing power supply, according to Spinazzola. This can also be done live, since the added equipment — such as new generators, new power distribution units (PDUs), and a second UPS — would not be energized until the second power distribution system was in place. Existing equipment could potentially be moved around as well, and then plugged into the second power distribution system once it has been installed.

Work in an existing data center must be done in a way that minimizes operational impacts. "Any additional capacity will likely need new switching systems, possible reconfiguration of existing backup systems, and full testing," Wade says. "All of which would need to be carefully coordinated to ensure that no business impact will occur during this work."

Sometimes problems can arise in the electrical system when backup capacity is added. "Most facilities have good records of maintenance contracts, UPS, batteries, and generators, but when you add capacity to power backup you stress components," Battish says. "And when you stress equipment that is older or approaching end of life, you often have sudden failures." When a UPS module is added, for example, generators will be used for a longer time than they are accustomed to being run, and a fuel filter clog can result. "Or a valve-regulated lead-acid battery may malfunction when you are doing a discharge," Battish says. "You are running the battery momentarily, but at the higher capacity the battery may fail and you could lose the UPS. These unknown and unforeseen glitches are more common with end-of-life equipment, when no one has been closely monitoring how the system operates."

Clearly, there are many reasons for facility managers, no matter how carefully they've planned the work, to be prepared for the possibility of problems, just in case. "When doing any type of upgrade, it is important to have a disaster recovery plan in place," says Spinazzola. "Over half of power outages occur because of human error, and when you are upgrading power on a live data center, you increase the opportunities to make mistakes." A disaster recovery plan should be rehearsed ahead of time in case of a mishap. Such plans often rely on renting space at a colocation site in the event of an unplanned outage.

Maryellen Lo Bosco is a freelance writer who covers facility management and technology. She is a contributing editor for Building Operating Management.

Email comments and questions to edward.sullivan@tradepress.com.
Continue Reading:

Critical Facilities

Considerations For Adding Backup Power To An Existing Data Center

Understand The Legal Issues of Adding Data Center Backup Power

Bring in IT Early and Often When Commissioning New Power Reliability Equipment

Should FMs Add a Second Utility Feed For Added Backup Power?
---
---
---
Related Topics:
Comments