Strategies and Tactics For Successful Data Center Upgrades
Effective planning to address HVAC efficiency, power reliability and key post-installation considerations
OTHER PARTS OF THIS ARTICLE
Pt. 1: This Page
Pt. 2:
Ensuring Reliable Power to Data Centers
Pt. 3:
Commissioning Data Center Systems To Achieve Performance Goals
Pt. 4:
Cooling Data Centers in a Crisis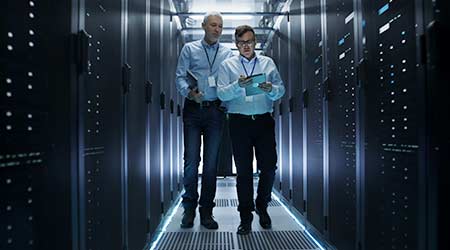 Data centers are becoming increasingly important elements in the core mission of institutional and commercial facilities of all types and sizes. Whether a data center occupies several thousand square feet or several hundred thousand square feet, the needs are the same. Operating 24 hours per day and 365 days per year, data centers require a reliable supply of power and HVAC services. And what is considered reliable for most facilities is not good enough for data centers. In fact, the old standard of reliability known as the five nines — 99.999 percent reliability — now is considered the absolute minimum.

Consider what happens when a data center loses power for even just a couple of seconds. Servers have to reboot, recover data, and repair corrupt data — a process that can take anywhere from 30 minutes to several hours and cost thousands of dollars in lost performance. A loss of the cooling system will cause even greater disruptions and losses.

Building reliability into the support systems for data centers requires careful planning, and the best time to build that support into a facility is during an upgrade. Most data center information technology (IT) equipment has an expected service life of only 10-15 years.

Beyond that period, one runs the risk of a lack of manufacturer support, increased maintenance costs, and underperformance. Even if there are no immediate plans to upgrade the center, now might be the best time for managers to plan to upgrade electrical and HVAC systems for the center.

Eye on energy

One of the most important factors managers need to consider when planning an upgrade is that data centers are energy hogs. A typical data center uses 10-50 times the electricity per square foot that a typical commercial office building uses, and 35-45 percent of this energy is for the HVAC systems.

Lighting systems use less than 5 percent of the total, and servers and other IT equipment use most of the remainder. With such a high demand for electricity, it is essential that managers specify IT and HVAC equipment with efficiency ratings that are as high as possible.

Before starting the upgrade planning, managers must work with IT personnel to better understand the power and cooling requirements of the upgraded data center. That information is critical in establishing the capacity of the electrical and HVAC systems.
Continue Reading:

Data Centers

Strategies and Tactics For Successful Data Center Upgrades

Ensuring Reliable Power to Data Centers

Commissioning Data Center Systems To Achieve Performance Goals

Cooling Data Centers in a Crisis
---
---
---
Related Topics:
Comments