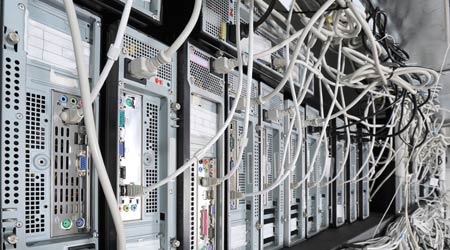 Is A Legacy Data Center Worth Upgrading?
From colocation to cloud, options abound, but the starting point for making any decision is assessing the state of the current facility.
As demand for computing capacity increases and the existing data center ages, an organization has to decide on the next step. Is it better to renovate an existing data center? To move its IT equipment into a colocation data center, where the user owns the IT equipment but rents the space? To move data processing to the cloud, where the provider owns the servers? Or is it best for the company to build its own new data center?
Those are complicated questions. To make a decision, the starting point for any company is to assess its own current needs and facilities, and what the future trends are likely to be, say experts.
"A data center is a 15-year investment," says Jeff Gilmer, a senior partner at Excipio Consulting. "It's very difficult to predict where technology is going to be 15 years from today." There's a risk that a new data center might be unnecessary in five years, "but if you have the capacity and the money, don't assume that going to a colocation (data center) is the right thing to do."
Finding the optimal solution means getting business units, finance, IT, and facilities working together, Gilmer says. The financial side comes into play in deciding whether the company has the capital for a new facility, but the nature of the business also plays a role. For example, Gilmer says, companies that are highly seasonal, such as school suppliers, which "go from 100 percent to 20 percent for three months," may be better off paying only for the services they need in a colo or the cloud, rather than maintaining their own facility 12 months a year.
The last ten years, says Bill Kosik, a senior mechanical engineer at EXP Global, have seen "a race to get the biggest and baddest data centers," particularly for tech-centric businesses. Kosik says that many banks are moving to offsite data centers, and tech companies are distributing their load among both conventional big centers and smaller ones nearer the end users.
Rajan Battish, vice president at CallisonRTKL, sees more companies moving to a colocation facility or cloud storage. But for some, that will never be a preferred option, either because of the type of application or the amount of data. Hospitals, for instance, need to keep their data within about 60 miles because of bandwidth issues.
Another key factor is the existing data center footprint. Some large companies will consolidate five or six data centers into one, or build a new facility at a convenient location, Gilmer says.
Security is a major concern for companies today. Some organizations, says Tim Kittila, a mechanical engineer for Parallel Technologies, resist moving to a colocation center or to the cloud because of nervousness about security — or they may want to store one crucial function onsite.
Recent events have shown that almost any company's data is subject to being breached, but Gilmer points out that there are other compliance issues to consider, such as patient privacy for health care companies and physical security.
Is data really safer in an in-house data center than in a colocation facility or the cloud? "That's a mental thing," Battish says. "It's like Linus and his blanket."
The answer to the update-or-replace question is "typically a hybrid of both," says Paul Schlattman, senior vice president at ESD Consulting. If an organization has two data centers, one that is 15 years old and the other four years old, the older one would be a prime candidate for migration to a colocation facility.
"The typical breakpoint is one megawatt," Schlattman says. A larger load is usually better suited to a wholesale colocation facility, he says.
Many large companies in various lines of business, Schlattman says, have built their own data centers, found that they couldn't fill them, and then sold them to "companies that do it for a living better and more efficiently," while leasing back some of the space.
But experts advise facility managers not to count legacy data centers out completely. Although the general trend now is to put data offsite, "the cycle will continue," Kittila says. "Just hang on, because the legacy data center will come back, and it can be leveraged."
Even if a company goes to a colo or the cloud, some information technology is bound to remain in the building. "There's always something left," Kittila says. "The IT people will say they're taking everything, but there's always something, and you need to know what it is."
The space that is left, and its attendant technology — cooling, power lines, UPS, etc. — may be returned to other uses in the building, or, with an upgrade, it might still serve IT needs. An "edge closet" may put end users to their data center without as much network involved.
"It may be my mom talking, but I never want to give up hope on re-using something," Kittila said. "We're lucky we've been able to upgrade a lot of legacy data centers." But sometimes it is more cost-effective to build a new facility or lease space in one.
"A lot of people are saying you shouldn't be in the data center business," says Kittila. "The more appropriate question is, how are you going to be in the data center business?"
Continue Reading:

Data Centers

Is A Legacy Data Center Worth Upgrading?

Tips For Doing a Data Center Upgrade

5 Questions To Ask When Considering Upgrading a Legacy Data Center

7x24 Exchange Develops STEM Initiative
---
---
---
Related Topics: