You Might Like
On FacilitiesNet
Commercial Office Building Renovations
Early attention to goals, budgets and schedules can ensure renovations of commercial office buildings deliver benefits
OTHER PARTS OF THIS ARTICLE
Pt. 1: This Page
Pt. 2:
Commercial Office Upgrades: Cost Considerations
Pt. 3:
Commercial Office Upgrades: Timing Matters
Pt. 4:
Teamwork for Successful Commercial Office Upgrades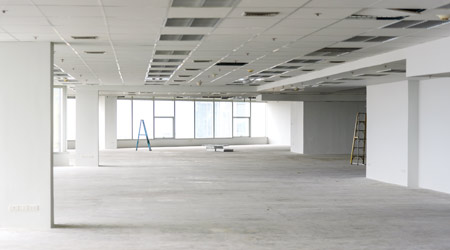 Renovation projects are always more difficult to perform than new construction projects. While both create many similar issues — such as timing and cost containment — renovations never start with a blank slate.
Maintenance and engineering managers must work around facility activities, which might need to be relocated. Existing building systems and components might or might not be in good working condition. Not all might require replacement, so managers will have to evaluate each one to determine their ability to support the new operations in the renovated facility. And managers must make certain that they understand the differences between the way the facility currently operates and the way customers expect it to operate after the renovation.
Managers must also balance costs against customer expectations. Too often, the desire to achieve unrealistic project goals and customer expectations results in blown budgets. Or, failing to agree upon expectations results in renovations that fall far short of expectations.
In spite of these challenges, renovations offer managers several important opportunities to improve their facilities. The projects can improve the energy efficiency and reliability of mechanical and electrical systems, and they can replace older or more troublesome systems and components to reduce maintenance costs. The projects also can upgrade interior configurations and finishes to attract or retain clients, and they can enhance safety and security by bringing building systems up to current code and life-safety requirements.
If managers are to deliver successful renovations of commercial office spaces, they must be actively involved in the planning process from the very beginning. In doing so, they will be able to better identify the scope of the project, set realistic project goals, and serve as a reality check on customer expectations.
Starting points
One of the first things that managers need to do is to make certain everyone understands the exact reasons for the renovation project.
Do existing systems in the facility no longer adequately support the operations being conducted? Have operations changed enough that the existing HVAC systems are significantly oversized or undersized? Are safety and security systems adequate for demands that tenants place on them? Are the finishes so dated that they driving potential tenants and customers away? Do current operating costs make the facility non-competitive?
Unless everyone involved in the renovation process understands the project's drivers, the planning process will overlook key factors, and nobody will be satisfied with the result.
The next step is conducting a reality check. Armed with an understanding of the reasons for undertaking the renovation, managers must make a quick evaluation of the budget for the project. Is it sufficient to accomplish everything that everyone involved is expecting?
Managers need to keep in mind that the initial budget is a ballpark approximation only, since not enough details are available yet to determine exactly which systems and components need to be replaced. But it is a starting point. Without it, managers might have to meet unrealistic goals, resulting in cuts that seriously impact the result of the renovation.
To better understand exactly what must be replaced and why, it is essential to complete a thorough facility assessment. The survey starts with an evaluation of the condition of all building mechanical, electrical, security, and fire-safety systems, as well as the systems' ability to meet the needs of the revised space operations. For each system, managers need to identify the system's age, maintenance history, capacity, and compliance with current building codes.
The survey also must examine the structural and architectural factors of the renovation.
Can the existing facility support the planned renovations? What physical changes must be made to the area being renovated to bring it in compliance with current accessibility standards, as well as fire and other applicable building codes? Is the building considered historic, or is it located in a historic district? If so, what steps must managers take to ensure the renovations will not go counter to applicable restrictions?
Failing to complete a complete facility assessment increases the risk that the planning team will make faulty assumptions on the elements of the space that can remain or need replacing. It also can result in delays because planners might have to revise work to bring the renovation into compliance with code or historic district requirements.
Continue Reading:

Project Management

Commercial Office Building Renovations

Commercial Office Upgrades: Cost Considerations

Commercial Office Upgrades: Timing Matters

Teamwork for Successful Commercial Office Upgrades
---
---
---
Related Topics:
Comments