Teamwork for Successful Commercial Office Upgrades
Early attention to goals, budgets and schedules can ensure renovations of commercial office buildings deliver benefits
OTHER PARTS OF THIS ARTICLE
Pt. 1:
Commercial Office Building Renovations
Pt. 2:
Commercial Office Upgrades: Cost Considerations
Pt. 3:
Commercial Office Upgrades: Timing Matters
Pt. 4: This Page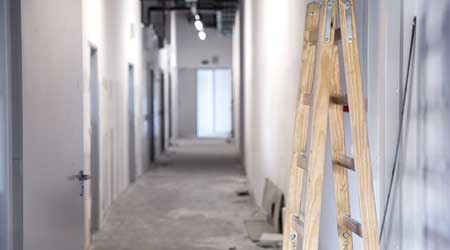 The time to assemble a project team for renovations of commercial office buildings is during the planning process, not once construction is ready to start. Ideally, the project team will include the designated project manager, members of the staff who are familiar with the operation and maintenance of the existing space, staff members or outside personnel who have managed similar renovation projects in the past, and representatives of those who will occupy the renovated space.
For the project to succeed, decisions made early in the process must include input from the project team. Among these decisions are what to include in the renovation, what systems and components of the existing construction can and should be kept, what outside design help is needed, how much of the work is to be done in-house and by contractors, what the renovated space will look like, and how it will operate.
Unforeseen issues will crop up during the renovation process, but by careful planning and by putting an experienced design team in place, managers will have the tools to deal with them.
— James Piper, P.E.
Continue Reading:

Project Management

Commercial Office Building Renovations

Commercial Office Upgrades: Cost Considerations

Commercial Office Upgrades: Timing Matters

Teamwork for Successful Commercial Office Upgrades
---
---
---
Related Topics:
Comments