Facility Manager Cost Saving/Best Practice Quick Reads RSS Feed
Work Pods Look Cool, But Buyer Beware
June 28, 2019 - Contact FacilitiesNet Editorial Staff »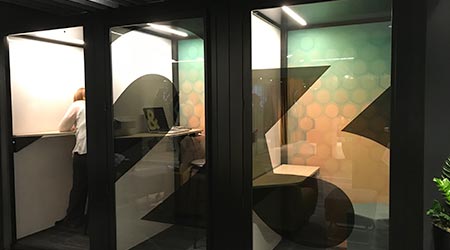 Work pods are pretty hot right now. What started out as a quirk a few years back has developed into a trend being picked up by major furniture manufacturers. Harkening to phone booths and childhood cubbies, pods or privacy booths seem to be an answer to many woes in commercial and institutional buildings. But before popping a few pods in place, facility managers should consider what problem they're trying to solve with them.

Work pods are often discussed in the context of open office, but they have been deployed in lobbies, airports, banks, and even manufacturing floors. Some are only big enough for one person to stand in. Others allow for a small desk. And still others create huddle space for a small group with video conferencing tech. All create an architectural feature in the workspace. One manufacturer has a cube with iridescent walls, like a soap bubble. Others have padded peaked roofs, lending a pillow fort aesthetic. Most have doors, and almost all provide full visibility of the occupants. Ostensibly, this visibility is meant to keep the pod user from feeling isolated from the vibrancy of the open office. Realistically, it probably is meant to deter napping or other inappropriate uses more than anything else.

Pods create an acoustic enclosure that can help facilitate heads down work or a simple phone call. Their ability to create a sound-proof enclosure varies by manufacturer, so facility managers will want to test drive a pod in their own space to ensure it meets their requirements. Some are better at keeping sounds out than others.

There is currently no standard which quantifies how effective a pod is at keeping sounds out, or in for that matter. At NeoCon, one manufacturer revealed that a challenge with pods is that some provide the illusion of acoustic privacy to the user, while in fact allowing everything they're saying to be heard by people outside the pod. Once the first embarrassing or sensitive conversation is overheard in a workplace, all others become suspicious of the pod and utilization plummets.

Larger pods are being used as mini offices or tiny conference rooms. For these uses, facility managers will want to carefully evaluate how HVAC and lighting is incorporated in the pod. Making a quick phone call is one thing, but sitting with another person in an enclosed space with bad airflow for an hour-long huddle does not exactly spell out "productivity." The same care should be taken for other long-term uses, such as rentable workbooths in an airport or study carrels at a university.

While pods will likely never be widely specified for commercial and institutional interiors, according to several manufacturers, it is expected they will be around at least as long as open environments where acoustic privacy is desired. Whether it's to create a quick private space for making a call, a relaxing nook for a 15 minute recharge session, or a flexible huddle environment, there is likely a pod out there that will provide a suitable solution for the facility manager willing to do a bit of homework and careful test-driving up front.
Naomi Millán is senior editor of Building Operating Management.
---
Comments