Quieting an Energetic Open Office
See how ceilings and acoustic elements helped quiet the open office layout at a high-tech firm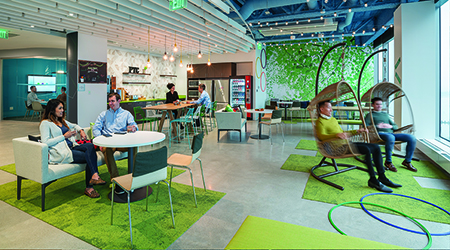 PTC's new global headquarters at 121 Seaport Boulevard in Boston needed to showcase the company's high-tech work in software for product design, IoT, and augmented reality, and serve as a way to attract and retain talent. The 250,000-square-foot space, designed by Margulies Perruzzi, features a variety of work zones based on activities, and nobody has a dedicated office. The aim was an energetic and creative space, but that could quickly become chaotic if the dynamics are not properly balanced. In the open-office layout with low-partition workstations, the ceilings and acoustics elements do a lot of work in defining the space and maintaining a productive work environment.
Block Party: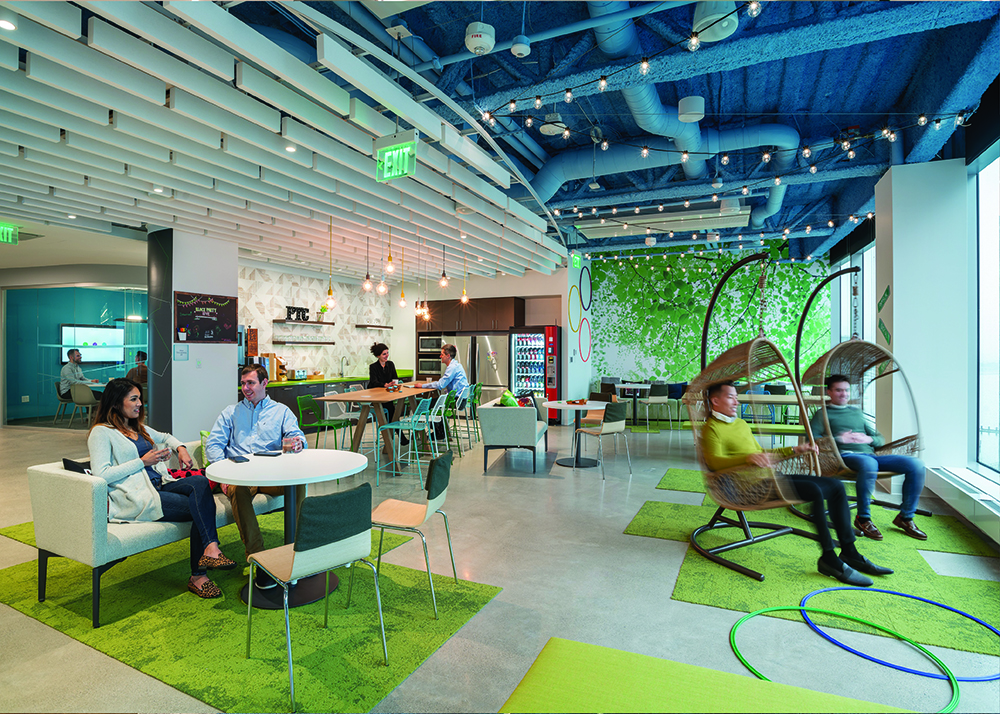 This ceiling utilizes acoustic slat ceilings to mitigate the noise in this active "hive" pantry space. The combination of acoustical ceiling panels, and open ceiling with catenary lights is a playful way to create a "block party" vibe in this active space.
Warren Patterson Photography
Organic Design: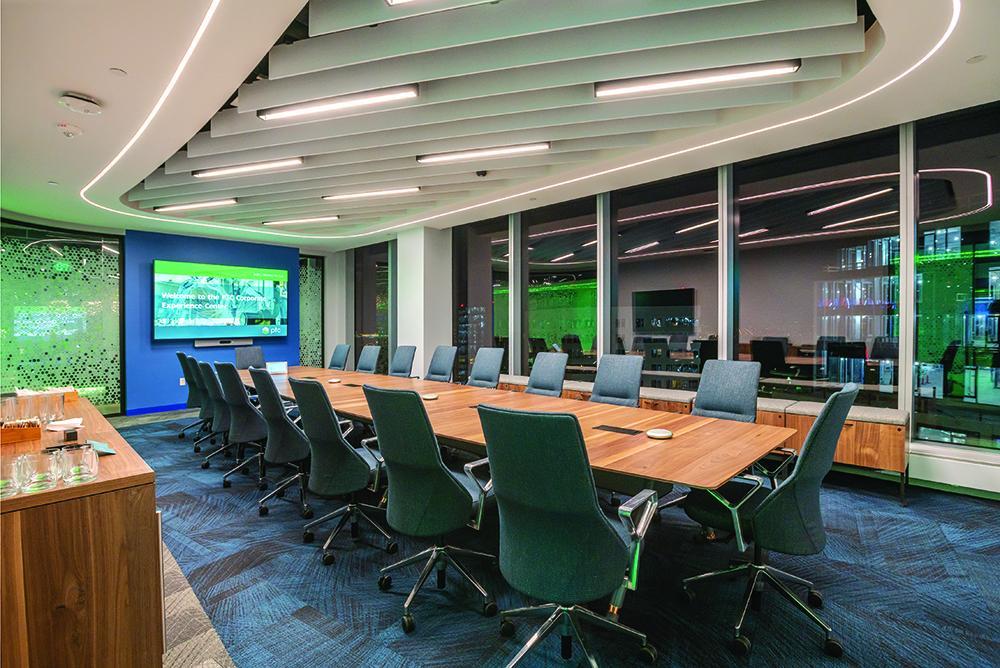 In the Corporate Experience center meeting room, the ceiling is notable for its eye-catching design with the organic shape of the ceiling and the light fixtures. The infill is a combination of open ceiling and acoustic fins to give the space a cutting-edge look, but also to create space that fits the acoustic demands of a high technology AV space.
Warren Patterson Photography
Energetic Acoustics: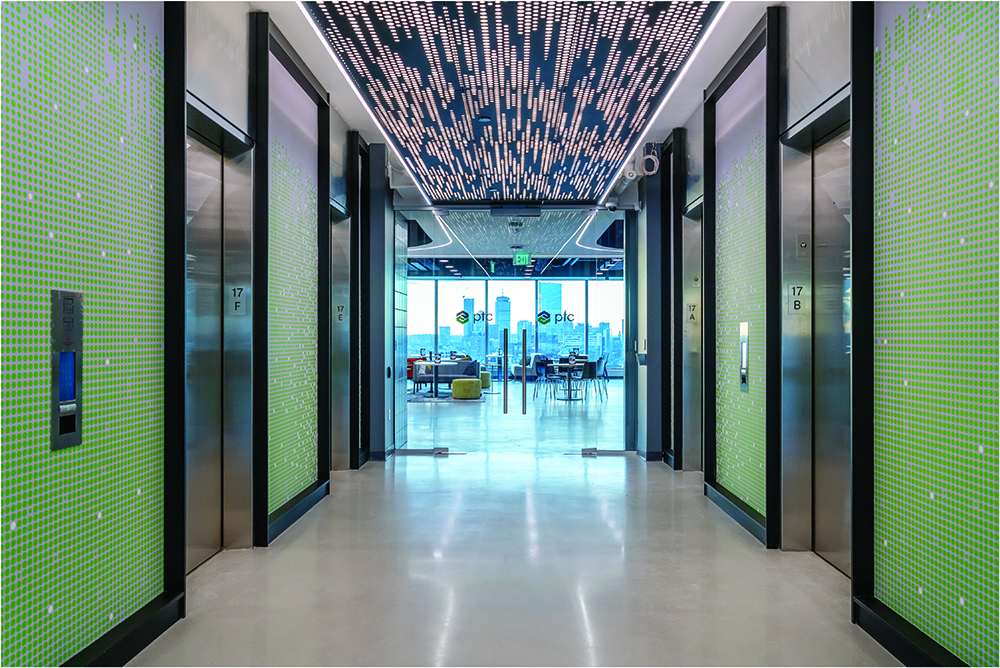 A metal perforated ceiling with an acrylic backer was used to create a more finished look in this open-ceiling elevator lobby. The backlighting of the metal panels combined with the lighting control system allow this lobby to be energetic and have movement as one enters the space. The movement of light draws you into the space. The lobby is a very "bright" acoustical space to signify lots of activity.
Warren Patterson Photography
Double-Duty Lighting: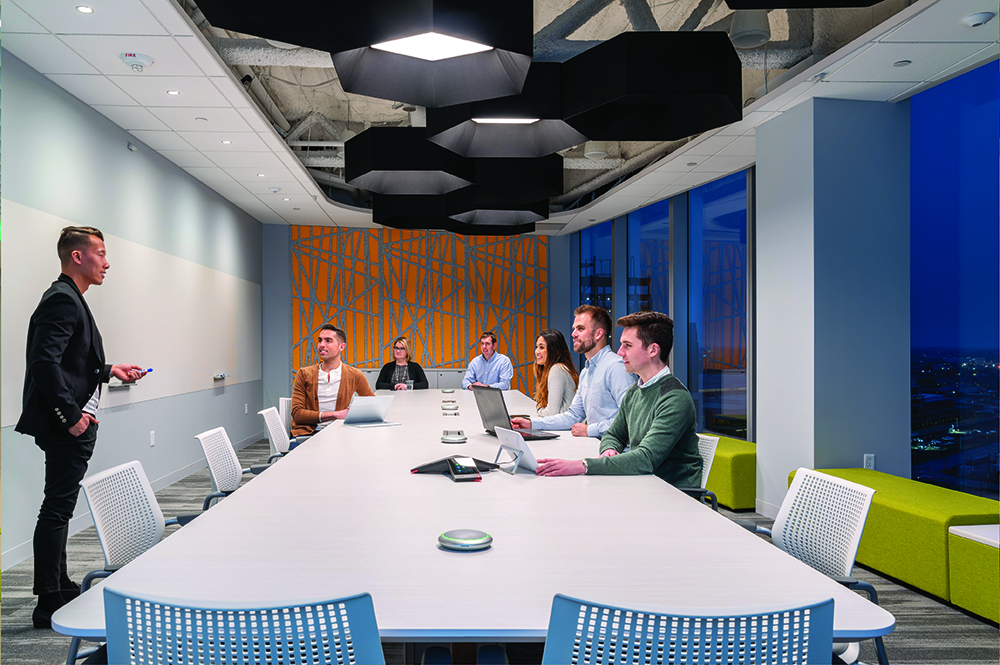 This conference room utilizes light fixtures that are not only decorative but provide acoustic properties to fit the room type. The exposed deck is sprayed with a sound absorbent product and acoustical tiles are arranged around the edges of the room.
Warren Patterson Photography
---
---
---
Related Topics:
Comments