You Might Like
On FacilitiesNet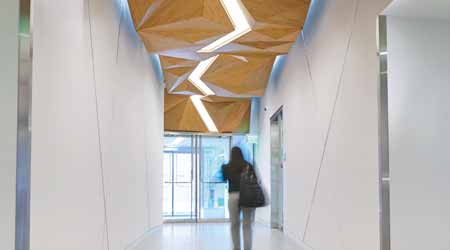 Armstrong Ceilings
As Facility Needs Change, Ceiling Choices Multiply
Colors, shapes, and acoustical properties are all important considerations when matching ceiling products to the intent of a space.
Suspended ceilings used to be pretty much utilitarian. Today, the possibilities are greater. Many buildings still feature the white rectangles of old, but with tiles that perform better with a subtly different look. Many acoustic ceilings can make a design statement of their own with new colors or patterns. And the move to open plenums, which brought with it acoustical problems, has in turn produced some elegant-looking solutions.
"We're in a really cool transition time," says Abby Martin, marketing manager for Armstrong World Industries. The move away from long fluorescent tubes to LED lights "means that the ceiling can be anything you want."
Design trends
For example, facility managers can choose to have color ceilings, or wood-veneer ceiling panels, or metal looks. Different shapes can be integrated into a standard grid with extra clips, Martin says, and they can also integrate sprinklers, HVAC, and lighting.
"Acoustical ceilings are an integral part of the design of a space," says Diana Hart, manager of architectural sales development for Rockfon. "Bright white ceilings provide an opportunity to reflect and diffuse light. Black ceilings absorb light to give a dramatic theater-quality experience. Color may be used for branding purposes or to convey emotion — a bright primary color can help energize a space, where a soft pastel can communicate a calmer environment." Colored ceilings can also be used for wayfinding or to define a specific space, she says.
Ceiling are now part of "an opportunity to create a signature look," Martin says. One trend is three-dimensional ceilings, with "undulations in the plane above your head. You'll look at it and say, 'Whoa, I never knew they could do that.'"
Even with all the new choices, the most popular offering continues to be a white tile with acoustic properties — at least in office space, says Matthew Ackley, vice president of architectural sales for USG. In lobbies, or in restaurants or retail buildings, ceilings are more apt to be used to make a statement. For open spaces, USG has an acoustic baffle system that is "architecturally and aesthetically pleasing."
"A lot of the time, it is about white rectangles," says Kelly Hicks, senior product manager at CertainTeed Ceilings. "The role of the traditional suspended ceiling is not to be noticed." But the new manufacturing process for traditional-looking panels now allows a smoother look while still absorbing as much sound as or more sound than the old fissures and pinholes did.
"A ceiling that does not have a smooth surface can collect dirt if the HVAC is not in mint condition," Hart says. "This not only is unsightly, but also not healthy for the people working in that space." But, she added, finishes, including ceilings, that are treated with biocides are becoming a greater concern, and "it has become imperative to find products that inherently do not need these chemicals."
Continue Reading:

Ceilings

As Facility Needs Change, Ceiling Choices Multiply

Acoustics and Style: Top Ceilings Considerations

Open Ceiling Trend Drives Growth in Sound Masking
---
---
---
Related Topics: