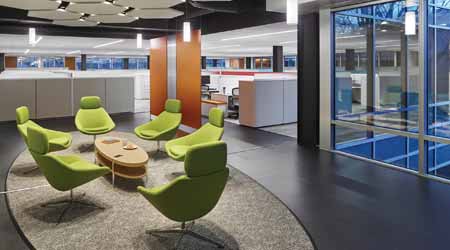 Photo © Jeffrey Totaro, 2015 / courtesy of Certainteed
Acoustics and Style: Top Ceilings Considerations
From hanging baffles to clouds, here are some emerging options for ceiling aesthetics and performance.
The overall market for ceiling tile is growing in "the low single digits," says Ackley — but most of those sales are for repair and remodeling, meaning that in new construction, the open look dominates. But "if you have a concrete floor and wood walls and an exposed deck, the noise levels are pretty extreme."
Although it might seem that skipping a suspended ceiling means cost savings, Ackley says that energy bills rise as a result, and his company gets called for a lot of "day two acoustics," when the ideal of open, collaborative space clashes with the reality of conditions that are too loud to be productive.
"Aesthetics go beyond visual beauty; they include aural beauty, too," Hart says, "If you see something unattractive, you can look away. If you hear something unattractive, you can't close your ear lids. Ceilings are the key surface to establish the aural side of aesthetics."
As the open plenum with exposed ductwork became a fashionable look in buildings, ceiling makers had to adjust. A restaurant is an easy example — combine a hard floor with a high, exposed ceiling, and noise levels rise quickly. But diners are somewhat used to that; having productive office conversation is another matter. Thus, a generation of facility managers had to go looking for acoustic solutions to their cool open spaces.
One solution that becomes part of a design aesthetic, Martin says, is a hanging baffle — a beam of acoustic material, in a color to match the surroundings or the company logo, suspended above a work space or a conference table. But in practical terms, "everything above your head has to be one integrated solution," she says. Armstrong works with manufacturers in other fields, she says, so that "when we introduce something wild and crazy, with different shapes or installed in a different way," they can also point clients to matching light, HVAC, and sprinkler systems.
Another popular sound adjustment to open spaces is acoustic panels that attach directly to walls or to the ceiling deck. "If your deck is black, we've got solutions that are black," Ackley says.
In order to work with the "edgier spaces," Hicks says, "everyone in the industry has learned a lot more about acoustics." A new line of CertainTeed acoustic panels, which can be designed to "blend in or stick out," attaches directly to the deck with adhesive, "and you can do it overnight, with no dust, no debris, no cutting metal."
High style
Another fashion-forward look is the cloud, an arrangement of acoustic panels suspended in open space. "People use them to make a very dramatic statement," Hicks says. The panels can be used, not only to absorb sound, but also to define a space.
"You also can create clouds and undulating ceilings with curved metal options," Hart says. "Choosing a bold accent color in stone wool, or a wood-look finish on metal, can be the focus point needed in a room."
Linear looks are also popular; Hicks cites the baffle systems, and also grid arrangements that use 2-by-8-foot tiles that can be attached so as to look seamless.
Every ceiling representative agreed that the open look is here to stay, at least for the near future. Another permanent feature is sustainability. Facility managers ask about the environmental footprint of ceiling products, and manufacturers have worked to reduce energy and water use and production waste, and to increase recycling.
Hart says that the industry is now "designing for best practices and not just to avoid potential harm. Quieter spaces with clean indoor air quality keep people well."
Continue Reading:

Ceilings

As Facility Needs Change, Ceiling Choices Multiply

Acoustics and Style: Top Ceilings Considerations

Open Ceiling Trend Drives Growth in Sound Masking
---
---
---
Related Topics: