« Facilities Technology Briefs Home
/
HVAC
Variable Speed Drive Reduces Energy Consumption - Xylem - Facility Management Product Release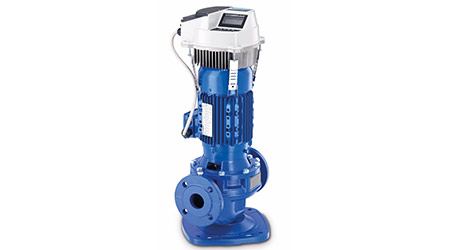 Xylem
website | Company information
HYDROVAR is an intelligent pump controller that accurately adapts to system demands, helping end users realize cost and energy savings while achieving optimum system performance. The drive can reduce energy consumption of a pump by as much as 70 percent.
"A variable frequency drive (VFD) is an important component of a pump system that is designed to achieve the highest energy efficiencies, saving operators time and money," said Wes Lobo, Global Business Unit Director for Industry and Agriculture at Xylem. "We've developed the next generation HYDROVAR to be an advanced control system with expanded capabilities, providing users in commercial/residential buildings, public utilities and general industry the most streamlined way to achieve these results."
Capable of running systems with up to eight pumps, the HYDROVAR has multimaster functionality, enabling each individual pump to take control if one or more units or sensors are not active. This continuous booster system operation ensures reliable water pressure across various residential, industrial and commercial applications. The drive line also offers an expanded power range throughout 21 HYDROVAR models, including applications for 208v electrical supply.
Easy installation and commissioning
The fifth generation HYDROVAR is compatible with the Generation 4 HYDROVAR and is designed to accommodate both new and retrofit installations, including premium efficient motor designs. A newly added wiring harness includes a separated wiring chamber with a dedicated cover that provides safe and easy access to the wiring, while protecting the unit's electronic components. The clip-and-go mounting system further simplifies the direct-fitting process.
Setup and commissioning are also fast and simple. The start-up menu guides users through every step of HYDROVAR's commissioning process, while the larger LCD display shows an expanded range of system parameters for standard motors. This functionality enables installers to manage a wider range of data, ensuring accurate programming at setup for expanded system applications ranging from closed-loop HVAC to pressure boosting for irrigation and commercial buildings. 
The HYDROVAR comes standard with BACnet and Modbus capabilities for seamless Building Management System (BMS) integration. Optional Wi-Fi for remote connection to the unit via any mobile device, laptop or PC is also available.
Extended system lifecycle, efficient operation and simple retrofitting
Wear and tear caused by fixed-speed operation is minimized due to innovative features, including motor control software that extends the life of the equipment by reducing heat. The HYDROVAR also has an embedded Current Total Harmonic Distortion (THDi) filter that lengthens the overall life of other connected equipment and prevents cables from overheating — without the need for reactor filters.
Using HYDROVAR with an existing pump can lead to significant energy savings, especially when operating at partial loads. It can be retrofitted to any standard fixed-speed pump motor suitable for variable speed operation. HYDROVAR's direct-mounting method does not require a special adaptor, and is available for power ranges from .75 to 30 HP, making the retrofit process efficient, easy and cost-effective.
"It's common practice within the industry to oversize pumps for the application, which uses much more energy than needed for typical operation," Lobo said. "The fifth generation HYDROVAR varies motor speed to match system demands, requiring less power for lower operational costs. Additionally, the soft start-and-stop functionality adapts operation according to system requirements, dramatically extending equipment life."
HYDROVAR's modular design enables a customized fit for any configuration of pumps, and can be motor or wall mounted for use with any manufacturer's pump. Configuration options include a range of a single pump to as many as eight pumps to meet any application requirements.
RELATED CONTENT
FEATURES:
QUICK READS:
posted: 2/28/2017