Facility Manager Cost Saving/Best Practice Quick Reads RSS Feed
Smart Building Software Market to Reach $20.5 Billion by 2027
July 22, 2021 - Contact FacilitiesNet Editorial Staff »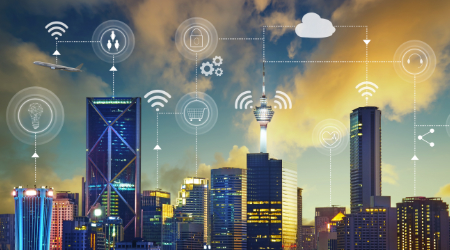 Smart building automation software is projected to reach $20.5 billion in North America by 2027, according to Environment + Energy Leader. Intelligent building software is becoming popular among facility managers due to its positive effects on operational efficiency and productivity. Facility managers that can sensibly integrate data, systems, processes, and assets for enterprise and industrial operations can find success when it comes to smart buildings.
In facility management, it is important to always look for ways to improve and make building systems run more efficiently. As software companies are developing more artificial intelligence and robotics products, more opportunities to increase efficiency are being created.
Companies without smart building software are forced to rely on manual ways to gather and verify important data such as building temperature, layout and maintenance schedules. This software can help you avoid unnecessary and expensive repairs, keep inventory stocked at an adequate level and optimize cleaning services. Stopping problems before they start is a big benefit to using smart building software.
Energy takes up about 19 percent of the total expenditures for the average building, according to IoT for All. Energy management is another important matter that smart buildings can handle. Smart sensors can be utilized to adjust lighting and temperature levels, ventilation and more to make a substantial impact on energy consumption. A 10 percent decrease in energy use can mean a 1.5 percent increase in net operating income, according to Energy Star. It is also important to note that changing ventilation levels based on the number of people in a room can decrease operation costs by up to 18 percent.
COVID-19 is forcing facility managers to rethink many facets of their buildings and investing in smart building software is on their mind. A KRC research report says up to 70 percent of United States facility managers are now more willing to invest in smart building solutions such as contactless building access and smart parking.
Smart buildings are becoming popular due to an increase in the technology, while COVID-19 has reminded facility managers of the importance of a clean and safe environment. Automation software value will continue to grow as more and more building managers see its value.
Chris Miller is assistant editor, Facility Market.
---
Comments