With All the Exciting Building IoT Technology, Where Do FMs Start?
First of a three-part article on how to get started with the building internet of things.
OTHER PARTS OF THIS ARTICLE
Pt. 1: This Page
Pt. 2:
Data, Cybersecurity Are Key Parts of Building IoT Business Plan
Pt. 3:
How To Choose Between Start-Ups and Established Companies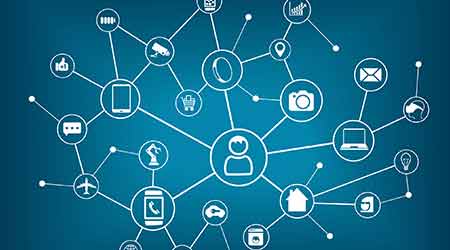 The rapidly growing number of Building Internet of Things (IoT) options in the marketplace presents a complex challenge to facility managers. Digital technology and building systems exist in two different worlds. Technology changes with the speed of smart phones. Today's hot technology may not be around in five years. Meanwhile, the building and many of its systems are going to be operating for decades.

In addition, Building IoT offerings often do not fit into traditional building system categories and may have extra fees associated with maintenance and updating. They also may operate on the enterprise's information technology (IT) network, blurring the roles of facility manager and computer geek.

To complicate matters, many promising Building IoT offerings are from start-up companies.

With all the uncertainty, some facility managers may be tempted to ignore the whole subject and concentrate instead on another of the many challenges that confront them every day. But ignoring the Building IoT won't make it go away. Today's building occupants expect their work environments to be as connected as their smart phones and tablets. Savvy facility managers realize that staying competitive requires converging the two disparate worlds of facility management and information technology.

The Building IoT holds a wealth of opportunities for facility managers. Starting at the smart sensor level through a common Internet Protocol network to cloud-based analytics and diagnostics software applications and back to the sensor, the Building IoT encompasses a wide range of new technology choices that facility managers should be aware of.

Increasingly, staying competitive means embracing the Building IoT concept. But how can facility managers evaluate the options it presents? And how should Building IoT be implemented? What about cybersecurity? How should potential vendors be evaluated? It's no wonder that facility managers may feel that they need a global positioning system to find their way in this new landscape.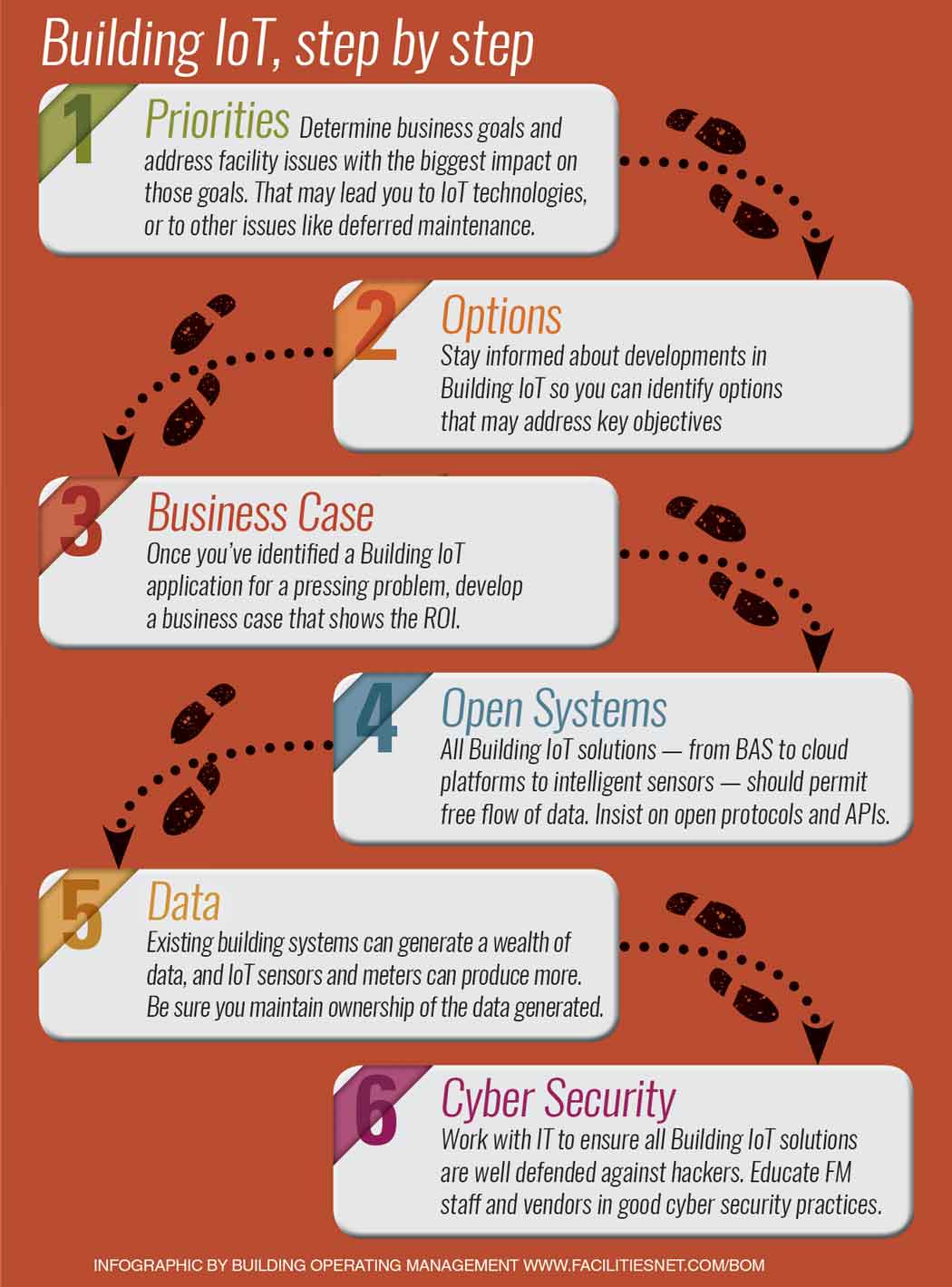 IoT is a concept
The place to start is with the basics. "Building IoT is a combination of hardware, applications and the ability to connect all of that together," says Paul Oswald, managing director of CBRE | ESI. "IoT is a concept, not a piece of technology. Building IoT is the ability to take edge devices and connect them into an environment to enable applications and solutions via the data collected from the sensors."

In addition to the smart sensora and controllers inside the building, Oswald includes mobile devices such as smart phones and tablets. "Mobile devices are part of the eco-system that helps enable an IoT solution," he explains.

With so many options for IoT today, it's difficult to predict what IoT solutions offer promise and possibly some staying power. But experts say that open, interoperable standards and protocols are a primary building block. What's more, building analytics and fault detection/diagnostics, along with mobile device applications that permit monitoring and controlling space lighting and comfort conditions, metering, alarm notification, etc., currently hold great promise.

Modern building sensors, controls, and automation systems that use open, interoperable standards and Internet protocols are broadly available from most established building automation systems companies today. BAS companies offer interoperable models in addition to their proprietary products. Facility managers who have updated their BAS from proprietary to open standards already are well on their way.

BACnet XD, EnOcean Alliance, and Project Haystack are refining IoT standard software naming solutions and open source flexible tagging to exchange data between smart apps that are both human- and machine-readable.

Kurt Karnatz, president of Environmental Systems Design, says he believes facility managers interested in the building IoT should start incrementally with an open standards and protocols infrastructure, making sure that it is scalable. Then, as apps and equipment are added or updated, they can be integrated into the network. A strong business case and ROI should be prepared for each new Building IoT device or app, suggests Karnatz.

Facility managers need to make sure their BAS and corporate IT solutions have the resiliency and redundancy to handle the massive amounts of unlocked data that Building IoT creates. Building IoT solutions are moving away from standalone systems toward a converged network.

For them, Paul Ehrlich, president of Building Intelligence Group LLC, believes building analytics and fault detection applications that operate at the controller level to make decisions offer significant benefits today.
____________
IoT Series
This is the eighth article in our ongoing Building Internet of Things series.
Read the first article about data here.
Read the second article about startups here.
Read the third article about building automation systems here.
Read the fourth article about cybersecurity here.
Read the fifth article about LEDs here.
Read the sixth article about partnerships here.
Read the seventh article about mobile here.
Continue Reading:

Building IoT Part 8: Getting Started

With All the Exciting Building IoT Technology, Where Do FMs Start?

Data, Cybersecurity Are Key Parts of Building IoT Business Plan

How To Choose Between Start-Ups and Established Companies
---
---
---
Related Topics:
Comments