4

FM quick reads on plumbing

---
1. Submetering: Gathering Data, Uncovering Savings
Water conservation remains a high priority for most maintenance and engineering managers seeking to control utility costs and improve sustainability for institutional and commercial facilities. But to maximize their efforts in this area, managers also might want to look at the connection between water conservation and energy savings, which are related to the need to pump and heat much of the water facilities use.

By looking more closely at water-conservation strategies and energy use related to water distribution and heating, managers develop practical, complementary strategies that will curtail the use of both water and energy.

An operational audit and submetering are two very effective strategies for conserving water. Managers can undertake operational audits by examining asset records and by checking all fixture specifications. Asset records will reveal which pumps, heaters, and fixtures are the oldest and have experienced the most frequent repairs.

A check of their ages and specifications also can identify the biggest water users by design. Aside from wear and disrepair, some fixtures, simply by their age, are large water consumers. Generally, fixtures that were produced before 1992, when new conservation regulations went into effect, use far more water than those made after 1992.

Submetering is an effective way to determine the combined effect on plumbing systems and components of both age and condition. Most facilities have meters in service entrance lines to measure consumption and calculate the water bill.

More facilities are installing separate meters, called submeters, on major segments of the water-distribution system to measure the consumption of each area, process or user. In this way, managers can uncover water waste, such as leaks and constantly running water, along with major consumers, and they can identify loss sources that otherwise would go undetected.
2

. Restroom: Aesthetics Among Retrofit Goals

Water conservation and hygiene remain the most important reasons why managers plan plumbing retrofits. But plumbing manufacturers are beginning to see increasing interest in specifying products that address those issues, and are appealing from an aesthetic standpoint.

"In the last seven-eight years, aesthetics have become increasingly important in projects, and certainly in commercial facilities," says John Fitzgerald of Chicago Faucets. "We're exposed to more things every day that are more cosmetic and aesthetically pleasing. To me, it's just a matter of time before that's going to start on the consumer end and trickle into the business-to-business side of it.

"Be it a facility manager or building owner, they are demanding more. They want more for the same amount. In 50 years, the faucet will operate the same way it does now, so we have to find different ways to differentiate the product. Aesthetics isn't the answer, but if you can have a great quality product and incorporate some aesthetics with it, I think that's going to meet the discriminating needs of that building and manager."

During the specification stage, it is important that managers find properly sized — and aesthetically pleasing — products to replace old fixtures.

"Unless managers are looking to do a lot of work cleaning up where the fixture was, if it's a urinal on the wall, or a toilet on the floor, or a faucet on the sink deck, look at what's the footprint of the fixture that you're putting in," says Jason Fitszimmons of Toto USA. "A lot of times a guy says, 'That looks like the same size urinal and toilet,' and then there's a very unsightly ring where the new fixture is, slightly smaller than the existing one. That can be a true headache to clean that surface and prepare it for the new fixture. Some thought needs to go into it to make sure you have the right size footprint."
3

. Cutting Costs in Restroom Settings

For restrooms that use paper towels, avoid installing the traditional, folded towel dispenser. Too often these dispensers are improperly loaded or are overstuffed, making it difficult to get the product out of the dispenser, or resulting in users getting more towels than they actually need. Large roll dispensers, particularly those that are touchless and dispense product automatically, can cut supplies costs while reducing the chances that towels will be dropped on the floor. Large-capacity dispensers also decrease the frequency with which they must be restocked.

The same holds true for tissue dispensers. Large capacity dispensers will reduce labor requirements by requiring less frequent restocking of the dispensers.

If you are about to undertake a major renovation project, don't cut corners. Make certain that the specifications and details presented in the design are sufficient to result in the finished project meeting all design requirements for reducing long-term operating and maintenance costs. Require that all fixtures to be installed are third-party certified in meeting the required flow rates.

Some of these measures are best implemented at the time of a major restroom renovation project. Others can be implemented at any time, although costs may be higher if they are added in a piecemeal manner. Even then, the benefits and cost savings typically will outweigh the additional first costs.
4

. Prison Plumbing Retrofit Captures Savings

Every retrofit project has its own quirks and challenges because no two institutional or commercial facilities are the same, after all. But an update of the plumbing system at the Main Adult Detention Facility in Santa Rosa, Calif., presented an array of challenges — not the least of which was its 700 or so inmates — that many maintenance and engineering managers are glad they do not face.

Despite this array of challenges, Sonoma County in 2009 undertook a retrofit designed to curtail the county's overall water use by installing plumbing controls on the facility's sinks and toilets in order to minimize inmate abuse of plumbing fixtures.

In addition to its imprisoned population, the 30-year-old detention facility features a challenge that most facilities do not — a sink and toilet in each room. Each fixture presents an opportunity for an inmate to cause problems for managers and technicians.

"Typically, in the detention environment, you tend to have a lot of things flushed down the toilet that shouldn't be going down there," says Steve Bartlett, maintenance program manager for Sonoma County, referring to such items as sheets, clothing, and contraband. "From a maintenance standpoint, we had to put bolts in a lot of the drain plumbing to catch things. We thought that in addition to water savings, (the retrofit) would help us control what was going down the drains."

Bartlett says he has been more than pleased with the results of the retrofit. A June 2006 meter reading showed that the facility had been using 116 gallons per person per day.

"As we moved through the project, the numbers start coming down," he says, adding that current readings show the savings are around 16.8 million gallons per year. "As of 4/30/2014, the inmate population was around 710, and the meter reading was 50 gallons per day. It has gotten as low as the low 40s.

"It's astounding because that's water that doesn't have to be pulled out of the aquifers, it doesn't have to get pumped, and it doesn't go down the sewer lines. Out of all of our energy-saving methods, this was probably the most successful one. We ended up doing (the same retrofit) to our juvenile hall, as well, after this project."
RELATED CONTENT: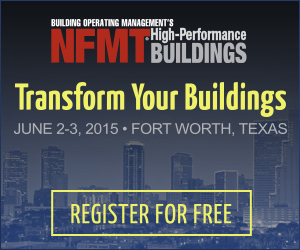 ---
QUICK Sign-up - Membership Includes:
New Content and Magazine Article Updates
Educational Webcast Alerts
Building Products/Technology Notices
Complete Library of Reports, Webcasts, Salary and Exclusive Member Content


All fields are required.


click here for more member info.

---
---
---