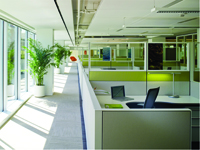 USGBC Headquarters Becomes First LEED 2009-certified Project
USGBC Headquarters
The year 2009 has been a banner year for USGBC. Not only did the organization move into new digs in March but also it releases a huge overhaul to its trademark LEED rating system in April. Now, those new digs are the first space to be certified under its own new rating system — and at the Platinum level (with the LEED for Commercial Interiors rating system) to boot.
The 75,000-square-foot office space, located in the Foggy Bottom district of northwest Washington, D.C., is divided between two floors connected by an open staircase. The elevator lobby, reception and conference breakout areas are clad in 500-year-old gumwood salvaged from the bottom of the Tennessee River. Much of the other finishing materials were donated.
Floor-to-ceiling windows provide daylighting to every workstation in the office, and an electronic window shade system reduces glare.
USGBC earned 36 of the 37 points in the Energy and Atmosphere category with a combination of its daylighting strategies, using all Energy Star appliances, optimizing HVAC efficiency, lighting controls and lighting efficiency, completing enhanced commissioning, purchasing green power, and implementing a measurement and verification system.
The space includes a Learning Pathway corridor that gives visitors a "living case study" to help them understand how various sustainable strategies work together. The Material Wall includes a sample of every material used in the space, explaining its origin and use. The Performance Dashboard is a flatscreen TV that provides real-time data on energy use. And the Progress Wall exhibits metrics such as LEED membership, types of LEED projects, LEED Accredited Professionals and World Green Building Councils.
posted: 9/30/2009