4

FM quick reads on Facility management

---
1. Find Allies to Win Funding for Facility Projects
Today's tip has to do with winning top management approval for facility projects.

Gaining funding for a project is a challenge all managers face. Top management has to weigh projects from across the organization, then allocate financial support to the ones that will ultimately provide the most benefit to the entire organization.

One way to improve the case for a facility project is to show that it will provide direct benefits to other departments or business units. For example, if the facility manager wants to upgrade aging parking lot lights, energy savings may only be one benefit. By talking to other managers or the human resources department, the facility manager may be able to show that the dim, yellow light from old fixtures makes employees who work late nervous as they walk out to their cars.

Similarly, it may seem obvious to the facility manager that an unreliable generator in a hospital or a Tier 1 data center needs to be replaced. But if the proposal to replace the generator has the support of the head of medicine or of IT, it stands a much better chance of being approved.

There are plenty of other examples, ranging from new HVAC equipment that will save energy and reduce maintenance costs while addressing employee complaints about comfort to a new access control system that may reduce liability while making employees feel safer. The key is to think broadly about the benefits of a facility project.

Taking that approach provides the facility manager with an ally in the battle for funds. It also shows top executives that the facility manager is taking a company-wide perspective, rather than simply looking at the needs of the facility department.
2

. Using Workplace to Shape Corporate Culture

Facility managers are not always asked to be involved when an organization decides to change some aspect of the corporate culture. But that doesn't mean that a facility executive doesn't have a role to play in those efforts.

The first step is to be in tune with the kind of culture that the organization wants to develop. The goal may be to increase collaboration. Or it may be to encourage workforce mobility. Or to attract a certain type of worker. Or to enable the corporation to respond quickly to changes in the market.

Regardless of the goal, the physical work environment plays an important role in shaping the corporate culture. Over the past decade, many organizations have experimented with alternative workplace arrangements. Changes in IT technology and in systems furniture design have supported new approaches to the workplace. It's useful for facility managers to be aware of innovations that might apply to their own organizations, should a culture-change effort begin.

Facility managers who keep up with workplace-design developments are also better positioned to see opportunities to implement workspace innovations. For example, a division might have changed its work processes, but failed to adjust the physical environment to support those changes. Or it might have a high percentage of workers who are often out of the office. A pilot project involving a new workplace design might help a business unit improve performance, while demonstrating that the facility manager can help meet organizational goals.
3

. Setpoint Changes Can Cause Energy, Other Problems

Energy management systems offer a convenient and reliable way to reduce energy use. But reliable doesn't mean foolproof. Energy management systems don't always deliver the savings they're expected to.

One common problem is that set points are changed without authorization. Often, the person who makes the change is trying to resolve an occupant complaint about a space being too hot or too cold. Overriding a set point may work as a short term fix, but it may lead to longer term problems. For one thing, energy is wasted. For another, it may cause a ripple effect, producing another problem - such as occupant discomfort - as an unintended consequence.

Simply telling staff not to touch set points may not be enough to prevent it from happening. Overriding set points may be a sign of a deeper problem. If the staff doesn't understand why the system is set up the way it is, they are more likely to make changes that might undermine system performance. If that's true, training may solve the problem.

In some cases, the system can be set up to provide levels of access, so that only approved staff have authority change set points.
4

. Avoid Rush Jobs By Building Bridges to Other Departments

In many organizations, facility executives are the last to know about important changes that will require changes to the physical environment. In some cases, those changes involve equipment, as when new servers for the data center show up with no warning on the loading dock. In other cases, the changes involve people – for example, the addition of new staff whose workstations will have to be set up. The result is a rush job – and a lot of hassle for the facility department. Grumbling about the problem after the fact won't help prevent it from happening again. A better route is to let the other department know what's in it for them to notify the facility department of impending changes. Advance word might enable servers to be up sooner or might spare the other department the stress of a last-minute rush to get workstations set up. An even better strategy is to develop a good relationship with other departments so that you can get the information you need in advance. Ideally, the relationship will evolve to include regular two-way communication about matters of importance to the other department. But in the beginning, it may be a matter of periodically checking in with the other departments to find out what they have coming.
RELATED CONTENT:
Facility management , budgeting , top management , security , HVAC , power reliability , data centers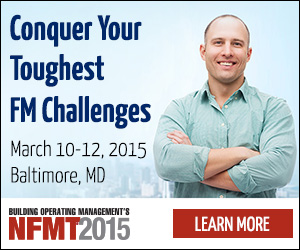 ---
QUICK Sign-up - Membership Includes:
New Content and Magazine Article Updates
Educational Webcast Alerts
Building Products/Technology Notices
Complete Library of Reports, Webcasts, Salary and Exclusive Member Content


All fields are required.


click here for more member info.

---
---
---