Consider Solar Shading to Reduce Energy Use
time: 2:00
You might also like:
Energy Efficiency Taken to the Wall
Spring Roof Inspection: No Time Like the Present
---
Today's tip is about techniques for solar shading. In addition to energy efficient windows or glazing, considering using solar shading devices to block solar heat gain. This can help reduce energy use.

The particular type of shading device used will obviously depend on the design of the exterior of the building and the building orientation, but some of the more commonly used solar shading strategies include carefully placed trees, awnings and trellises, overhangs, grille screens and even solar panels. Some more advanced types of solar shading can be programmed to follow the sun, and therefore adjust the shading as the sun moves across the sky. Overall, solar shading should not block heat gain in the winter, if possible, and should be designed to reduce glare. According to the American Institute of Architects, the most challenging exposures to manage are eastern and western exposures from low morning sun glare and late-afternoon solar load and sun glare.

Another strategy along the same lines is using light shelves to reflect light deeper into a facility. This can save energy because fewer energy-using lights are necessary. If you use this strategy, however, be careful to only reflect light, not glare.

RELATED CONTENT:
Energy Efficiency , Solar Shades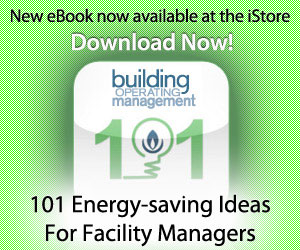 Free E-mail Newsletter Sign-up
Weekly Articles
Facility Webcast Alerts
Building Products/Technology
Monthly Digital Magazine