Facility Manager Cost Saving/Best Practice Quick Reads RSS Feed
Chameleon Panels Could Help Buildings Manage Light and Heat
October 24, 2019 - Contact FacilitiesNet Editorial Staff »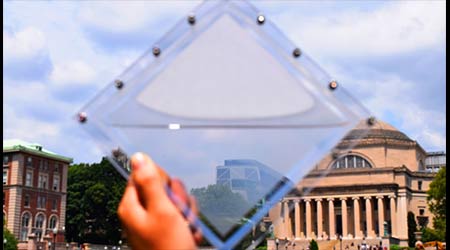 Researchers have discovered a way to make switchable panels which could help buildings manage heat and manage daylight. The concept is similar to switchable windows, but researchers at Columbia University School of Engineering and Applied Science say their method uses less expensive materials which could be scalable to cover larger sections of the building, such as the entire roof.
By wetting porous polymer coatings with liquids like alcohols or water and sealing the mixture in hollow plastic or glass panels, researchers were able to switch the properties from an opaque white while dry to nearly perfectly translucent when wet. The change in optical appearance is slower than with current switchable windows with electrochromic glazing, but the degree of optical change is greater, say the researchers. Solar transmittance in the test assemblies changed by around 74 percent.
A potential use for the technology could be in climates with hot summers and cold winters, say researchers, as it could allow buildings to have white or black roofs depending on the season. The researchers focused on commonly available polymers and simple panel designs in the hope that the technology could be widely applicable.
Naomi Millán is senior editor of Building Operating Management.
---
Comments