« Back to Facilities Management Windows & Exterior Walls Category Home
What Facility Managers Need to Know about Fenestration's Role in Green Building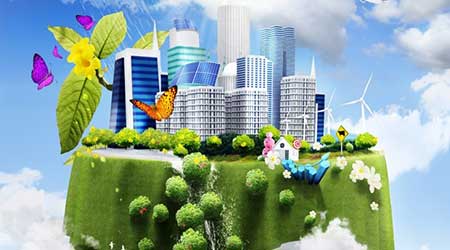 June 14, 2019 - Windows & Exterior Walls
By Deborah Callahan
Currently, the demand for green building is high in commercial real estate, and market trends suggest it will continue growing. While up-front costs sometimes trigger price sensitivity among investors, property managers can assuage this concern through a better understanding of fenestration product performance and the organizations that make such data available.
One of the most important things to consider when maximizing energy efficiency and occupant comfort is that fenestration product selection requires thoughtful reflection in the project design phase. This is critical to determining whether the building will meet green building standards set forth by the industry. Once a building is standing, replacing windows, doors, and skylights can be cost prohibitive.
Energy Efficiency Heroes: Rating and Certification Systems
The World Green Building Trends 2018 Smart Market Report found that green building activity in the United States is set to rise from 32 percent to 45 percent by 2021. So it's important to be aware of the different energy performance ratings for fenestration products, such as windows, doors, and skylights. Energy-efficient windows can improve the comfort of the building's occupants and can help save energy costs.
Facility managers have different rating and certification options at their disposal to identify fenestration products that improve the building's energy efficiency. The National Fenestration Rating Council (NFRC) rates commercial and residential windows, doors, and skylights. NFRC's label allows building managers to know if the product is best suited for the local climate and building orientation, detailing how much heat the glass will let in during hot summer months or how much heat escapes in the winter.
Leadership in Energy and Environmental Design (LEED) certification is a widely-used green building rating system available for nearly all kinds of buildings, providing a framework for creating healthy and highly-efficient green buildings.
There are four LEED rating systems for all building types and all building phases: building design and construction (BD+C), operations and maintenance (O+M), interior design and construction (ID+C) and neighborhood development (ND). To achieve certification under any of these rating systems, building managers must ensure their green building projects meet LEED prerequisites before pursing credits that evolve into points. The more points, the higher the reward. The number of points a project earns determines the level of LEED certification it receives.
Other ratings include the American Architectural Manufacturers Association (AAMA) gold label certification. While the AAMA label does not include energy performance ratings, it signifies that a given product meets required performance standards for air leakage, water penetration, and wind pressure. These ratings are important for the structural integrity of the building envelope.
Inner Workings of a Window Label
Choosing the best windows for a building doesn't have to be a struggle. NFRC requires U-factor, solar heat gain coefficient (SHGC), and visible transmittance (VT) ratings, while air leakage and condensation resistance ratings are optional and may not appear on all products. Each of these specific ratings signal how well the fenestration product handles different aspects of the environment. They are also important when comparing ratings to determine the best product to purchase.
• U-Factor: measures how well a window can keep heat where it is. The lower the number, the better a product is at keeping heat outside in summer and inside in the winter.
• SHGC: measures how well a window can resist heat gain from the sun shining in, which is especially important during summer cooling season. Lower numbers may reduce cooling costs, while higher numbers may reduce heating costs.
• VT: measures how well a window can effectively light a building with daylight, potentially saving money on artificial lighting.
• Air leakage: measures how much air will enter a room through a product. The lower the number, the fewer drafts occupants will experience.
• Condensation resistance: measures how much potential the product has to resist condensation. Higher numbers indicate more resistance to moisture from the air condensing on the window.
Sustainability for the Greater Good
A look at the data shows why these factors are important. Healthy, sustainable buildings are vital to improving the health of building occupants. The HEALTHfx study conducted by Harvard University found nearly six billion dollars in combined public health and climate benefits, including fewer hospitalizations and fewer missed days of work and school. In addition to keeping people healthy, energy efficient buildings reduce operating costs and leave a positive impact on the environment. Windows, doors, and skylights are the first line of defense in this effort.
When it comes to green building development, the up-front cost can seem problematic if the long-term savings aren't clearly detailed. For fenestration and other efficient building supplies, facility managers should consult sustainability experts to ensure the project is on the right path and investors have a clear understanding of what materials to use.
Because facility managers are the decision makers for all aspects of a building, their understanding of how fenestration products help drive energy efficiency, and other aspects of sustainable building, is key to the future of green building. NFRC, AAMA, LEED, and others can provide the foundation of knowledge to make this happen.
Deborah Callahan is NFRC's chief executive officer. Formerly she was the chief operating officer and, prior to that, the deputy executive director. She has been with NFRC since 2005, and has 25 years of experience in association management.
posted on 6/14/2019