Smart Window Benefit? Energy Savings, Reduced Glare
The many benefits of smart windows have helped spur investment and innovation in smart glass.
OTHER PARTS OF THIS ARTICLE
Pt. 1:
Smart Windows Offer Flexibility, Occupant Comfort
Pt. 2: This Page
Pt. 3:
Electrochromic Glass Results in Energy Efficiency at LEED Certified Facility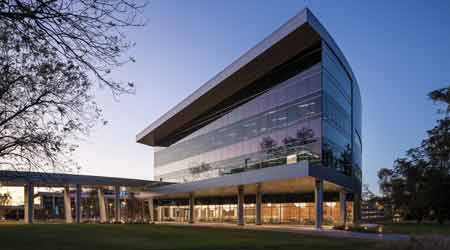 View, Inc.
Smart windows offer the potential for significant energy cost savings. What's more, Lentz says, "for new construction, the advantages of electrochromic and thermochromic glass are that they bring the heat load of the building down, which means the HVAC system can be smaller," reducing capital expenditures.
While energy savings is a big reason to consider smart glass, it isn't the only benefit. Lentz cites improved thermal comfort and a reduction of glare for the building occupants. "This is very important if facility managers consider that productivity costs are 112 times greater than energy cost," according to a 2010 study from the Department of Labor, "and any changes made here have the biggest impact on" operating expenditures, Lentz says.
Manufacturers point to other benefits of smart glass. Park says "natural light and outdoor views can boost employee productivity and reduce absenteeism" in office settings, "in schools, a connection to the outdoors can improve cognitive function. For patients recovering in a health care facility, access to daylight and increased comfort can lead to faster healing."
Lentz says that "both thermochromic and electrochromic are durable products that have been field tested for years without any noticeable loss of efficiency," and both types of glass are "expected to last well beyond 30 years."
Right for you?
Today, for facility exterior applications where the goal is solar control, by far the most widely used technologies are thermochromic and electrochromic glass. So what should facility managers take into account when evaluating these smart glass options?
One consideration is control. The tint of a thermochromic window is controlled by heat from the sun, while electrochromic glass "can be instructed by humans as needed so a window could go pitch black at the touch of a switch (application of a voltage)," says Peter Harrop, chairman of IDTechEx.
Electrochromic glazing can be integrated with other systems within a facility and controlled by a building automation system.
Another important point is installation. Lentz points out that thermochromic glass "requires no additional skills or knowledge to install and can be installed by any glazier in the same way conventional glass is installed." In contrast, with electrochromic technologies, "a licensed electrician will need to set up the system, connecting wires, controllers, sensors, etc., to the central control panel," he says.
User experience is yet another factor to weigh. With electrochromic glass, facility managers and even occupants can decide when windows should be tinted and, depending on the product selected, may be able to control how dark the window gets. With thermochromic glass, heat from the sun controls tint, not a facility manager or occupant. Lentz, however, says that is a benefit because "the glass tints in harmony with heat from the sunlight and is therefore continuously variable as opposed to having set levels like electrochromic glass."
Coming attractions
The large size of the building market and the potential for energy savings from smart glass have helped to spur investment and innovation in smart glass, especially electrochromic technologies. The speed at which the glass changes from clear to dark and vice versa are improving, as are aesthetic factors and the size of glass available. "The technology is evolving quickly," Klawuhn says. What's more with indications that large glass manufacturers have their eye on the market, more investment and further technology improvements could be on the way.
And more smart glass options are on the way. "New smart windows technologies and materials are likely to appear in the next few years," says n-tech Research, though the firm notes that those new offerings "will be challenged to compete with established active materials." The market research firm expects the most successful of the new smart materials to be "variants on materials originally developed for displays." But those materials are still a ways off: The firm doesn't expect significant revenue from these newer materials until the 2020s.
Angela Maas is a freelance writer who covers facility management topics. She is a former managing editor of Building Operating Management.
Email comments and questions to edward.sullivan@tradepress.com.
Continue Reading:

Windows

Smart Windows Offer Flexibility, Occupant Comfort

Smart Window Benefit? Energy Savings, Reduced Glare

Electrochromic Glass Results in Energy Efficiency at LEED Certified Facility
---
---
---
Related Topics:
Comments