Common Sense Approach Helps in Evaluating Rain Screens
Whether a rain screen system is being reviewed as part of a new design, retrofit, pre-purchase, or life cycle and maintenance review, the building team can use a common-sense approach built on understanding fundamental principles and assessing risk to evaluate the cladding system. The most common sources of water intrusion through wall cladding systems are attributed to failures in the water barrier due to unsealed penetrations or improper integration detailing; therefore, proper design, constructability and maintainability must be a priority.
Unfortunately, the evaluation process of a rain screen assembly is not a simple checklist procedure. The choice of one panel system or material will not only affect the overall appearance and performance of the cladding system, but also the other components required to complete the rain screen assembly. For instance, an engineered pressure-equalized rain screen system may perform with a less robust, but still continuous water barrier. This same membrane is not appropriate behind an open-joint panel system that is not engineered to reduce wind-driven rain and keep moisture out of the panel cavity; in this scenario, a more durable membrane is better suited. Going a step further, the team must determine if the membrane will be exposed to direct sunlight, or whether a breathable membrane is required to prevent condensation within the interior wall cavity. Similar interdependent relationships will apply to panel materials, sub-frame components, fasteners, flashings, and types of sealants.
Building owners and facility managers may not keep track of the specific cladding system details. However, if the cladding has specific performance criteria, they should have a general understanding of the systems being implemented and should be able to ask the appropriate questions of the design and construction professionals to properly evaluate the assemblies. Undeniably, the questions and answers will change depending on how a particular rain screen system fits into the project, but the underlying concepts that will affect quality and performance will remain.
Consider the following items:
Performance History: Using system components with documented performance histories in similar applications provides an often overlooked level of comfort and can justify the costs of more reliable systems. The exterior wall is intended to protect the interior space from the exterior elements and the importance of proven reliability of the individual components in project-specific design conditions should not be understated. Materials with durability, dimensional stability, corrosion resistance, efficient thermal properties and structural integrity will create a higher performing cladding assembly.
Barrier Selection: Exterior walls rely on the performance of the four primary barriers: thermal, vapor, air and water. It is essential to verify that the selected barriers are appropriate for the project conditions. This includes evaluating how the rain screen panels affect the barriers, such as the layout and attachment method and exposure to the exterior elements like sunlight or extreme temperature.
Continuity: An effective way to reduce risk of air leakage or water infiltration is to provide continuous air and water barriers. The ideal location of these barriers depends on specific conditions; however, barrier continuity with adjacent construction, such as roofs, is pivotal to the success of not only the wall cladding, but the building envelope as a whole. Typical system details and complex transitions should always maintain barrier continuity.
Material Compatibility: To achieve long-term performance it is essential to address this subject, particularly chemical and adhesive compatibility. This includes contact between dissimilar metals or adhering sealants to various substrates, as well as transitions in different membranes or flashings.
Maintainability/Accessibility: The life span of a cladding system is generally limited to the service life of the weakest component. Under current design practices, this typically means the various coatings, sealants, and gaskets. If the design of the cladding incorporates components and flashing elements that have a limited service life, the design must allow for regular maintenance of these materials or else the long-term performance of the rain screen system can be compromised.
As the trend of rain screen wall systems continues to evolve, innovative design materials will become more and more common for both new and re-clad construction. Advances in engineering will lead to more complex cladding systems and require the integration of design and construction to bridge the gap between concept and fabrication. Ultimately, understanding the often missed fundamentals of a rain screen assembly will remain an important factor in realizing the expectations of superior performance and reliability.
Jonathan Hill, P.E., is a senior staff I in the building technology group of national engineering firm Simpson Gumpertz & Heger Inc. He has experience in investigation, design, and construction contract administration of building envelope components and glazing systems. His projects have included waterproofing services for roofs, plaza areas and below-grade spaces, as well as the design and review of cladding components from standard drainage and barrier wall systems to custom curtain wall and storefront assemblies. He can be reached at jdhill@sgh.com.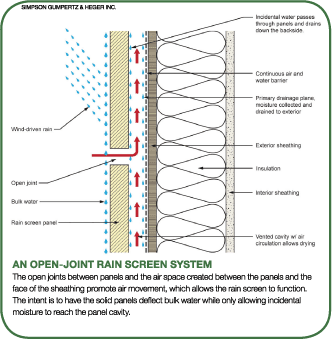 Continue Reading:

Using Rain Screens for Innovative Exteriors Can Offer Advantages

Common Sense Approach Helps in Evaluating Rain Screens
---
---
---
Related Topics:
Comments