Back to full facility management training list
Association for Facilities Engineering - Resource for Facility Managers
THE ASSOCIATION FOR FACILITIES ENGINEERING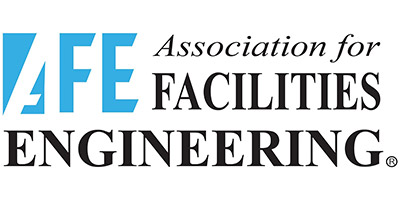 Association for Facilities Engineering
8200 Greensboro Drive, Suite 400
McLean, VA 22102
Phone: 571/395-8777
E-mail: info@afe.org
URL: www.afe.org
Certification and Education: Gabriella Rodriguez; 571-395-8772
The Association for Facilities Engineering (AFE) offers the following certifications:
In addition to these certifications, AFE offers members numerous educational opportunities in a variety of formats. Continuing Education Unit (CEU) credits include enrolling in AFE's Webinars or those approved by AFE, participating in local chapter events, providing leadership for a chapter or region, or speaking at a conference or event.
Facilities America
AFE's annual national meeting and show offer a comprehensive conference program focused on the latest products, technologies, best practices, and services that professionals in the built environment need to do their jobs well. Here is the 2019 Calendar.
Webinars & AFE Special Webinars
AFE's provides virtual interactive seminars provide a one-stop educational resource for industry professionals. Classes are a minimum of 60 minutes in length and are taught by an experienced representative from the field. In addition, each course equates to 0.1 CEU or recertification credit for individuals currently holding AFE credentialing (CPE, CPMM, or CPS). Maximum class size for all seminars is 60. Registration is on a first-come, first-served basis and is $29 for non-members. System Requirements include access to a PC, Internet, and phone.
Here are topics of recent seminars:
10 Tips to Building a Better Maintenance Team
AFCI (arc-fault circuit interrupter) and GFCI (ground-fault circuit interrupter) protection for electrical circuits and for human beings respectively
Achieve Predictive Maintenance Results with Vibrations
Online Store
AFE offers links to books dealing with AFE certifications here and AFE logo items at Lands' End.