« Back to Facilities Management News Home
Wraps Target Waterproofing for Doors and Windows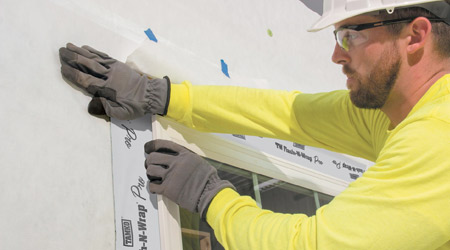 Contractors can now better protect exposed entry ways and windows from the threat of moisture and air penetration with TW Flash-N-Wrap Pro, the latest waterproofing innovation from TAMKO Building Products, Inc.

TAMKO TW Flash-N-Wrap Pro is designed to help ensure a tight seal around window and door perimeters to keep moisture out, reduce airflow and can improve energy efficiency. Featuring a treated release film on the adhesive side of the flashing, TW Flash-N-Wrap Pro installs easily and adheres firmly. This new self-adhering flashing has been tested to meet our strict endurance requirements allowing it to be left exposed for up to 180 days.

"We focused on easier installation for the contractor and better assurance of protection for the structure, and this product delivers both," said Brandon Knobloch, TAMKO's corporate director of waterproofing. "TW Flash-N-Wrap Pro helps to seal the building envelope and improve energy efficiency by reducing air entry, and it adheres to a variety of common building surfaces making the installing process easy."

TW Flash-N-Wrap Pro is part of TAMKO's extensive waterproofing solutions and comes in 4-, 6- and 9-inch rolls to meet the needs of a variety of projects. The product will be produced at TAMKO's manufacturing facility located in Columbus, Kansas and will be available nationwide.
More From 2/7/2019 on FacilitiesNet