CPower - Healthcare Facilities
Webcast: Learn How Energy Assets Can:
Provide Significant Savings, Generate Revenue, & Maximize ROI. Wednesday, October 9, 2019 at 11 AM ET
« Back to Facilities Management News Home
Wall Panels Target Durability and Aesthetics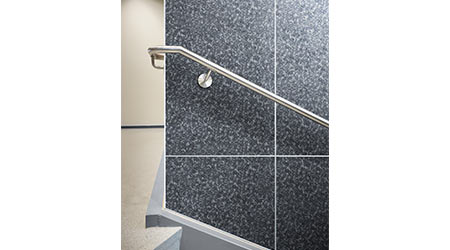 Formica Corporation introduces HardStop Decorative Protection Panels, a line of high-performance wall panels featuring a fiberglass core for added durability, strength and fire resistance.

HardStop panels are an excellent solution for areas that demand superior protection and ease of maintenance and installation. The panels are available in the full spectrum of Formica Brand colors, allowing for perfect color coordination with other Formica Laminate products.

Strength meets style

Easy to install, HardStop Panels are designed to be applied directly to a variety of substrates, including drywall, bringing additional strength and style to vertical applications and settings. Examples include:


Healthcare – corridors, nurses' stations, foyers, waiting rooms, patient rooms, labs and procedure rooms
Education – dorm rooms, classrooms, cafeterias, corridors, gyms, daycare centers and restrooms
Restaurants, supermarkets and retail – transaction counter fronts, drink stations and back-of-house prep areas
Offices – break rooms and reception areas
Airports/mass transit – wainscoting and jetways
Others – elevators, recreation vehicles, ambulances and stairwells

HardStop Decorative Protection Panels may be installed using a selection of seam treatments. Formica Group offers a variety of anodized aluminum trims that come in five profiles for any application: inside corner, outside corner, division bar, end cap and corner guard. All trim profiles are available in five anodized colors including Clear Anodized, Champagne, Light Bronze, Dark Bronze and Black. Color-coordinated 100 percent silicone or acrylic caulk may also be used as seam treatments.

HardStop Decorative Protection Panels are priced from $5 to $6 per square foot.
More From 4/15/2019 on FacilitiesNet