« Back to Facilities Management News Home
Transformative Wave's CATALYST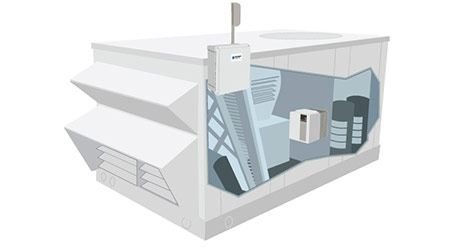 The CATALYSTis a sophisticated HVAC Retrofit and Building Automation Solution (BAS) that when installed to rooftop-units (RTUs), transforms HVAC assets into smart machines. By combining a Variable Frequency Drive (VFD) with Demand Control Ventilation (DCV) and both Advanced & Predictive Economization, the CATALYST significantly reduces energy usage, and therefore energy costs.
Enabling customers to go beyond HVAC asset control, the CATALYST solution can grow into a BAS that enables control of other building assets such as lighting and refrigeration. Developed on an open-source platform, the CATALYST can integrate with existing or legacy technology, or be deployed as a complete BAS.
With additional features such as Automated Fault Detection & Diagnostics, Dehumidification, and Indoor Air Quality Assurance, the CATALYST offers advanced technology to not only decrease energy cost and consumption, but also increase customer comfort and safety.
The CATALYST has been evaluated by numerous third-parties across the country, including the Department of Energy (DOE) whose study compared installations across 16 different climate zones resulting in an average 57% energy cost savings. This study in addition to 13 other field demonstrations proved Advanced Rooftop Control (ARC) technology delivers a significant 48% median HVAC energy savings which correlates to a normalized electrical energy savings of 140 kWh/ton per 1,000 hours.
Now, with these incredible results, utilities across the country have quickly ramped up prescriptive incentive programs covering 30% - 70% of the installed cost. An ARC implementation of the CATALYST delivers a simple, smart payback for building operators.
More From 11/4/2019 on FacilitiesNet