You Might Like
On FacilitiesNet
« Back to Facilities Management News Home
Stainless Steel Spreader and Snow Removal Productivity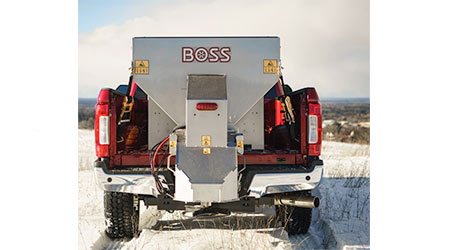 The BOSS FORGE lineup is expanding across all fronts. BOSS now brings the power of stainless steel ice control to even more vehicles with the addition of the FORGE 1.0 and 1.5 to the FORGE family. The FORGE stainless steel hopper is constructed with a combination of bolting, riveting and welding for optimal durability and serviceability throughout the spreader's lifetime—allowing you to maintain and replace individual parts rather than the entire unit. Both the hopper and the drive train are constructed with stainless steel, enhancing the sturdiness and durability of FORGE in adverse winter conditions. It's another example of tough, reliable innovations from BOSS that are built to BACK YOU UP.


Pintle Chain or Auger Feed System features either a heavy-duty pintle chain or mild steel helical auger for long life and reliability.
Stainless Steel Hopper is built to outlast the elements and is available in 1.0, 1.5 and 2.0 cubic yard capacity.
14.5" Diameter Urethane Spinner is durable, corrosion-resistant and ensures consistent distribution.
Dual Variable Speed Controller fleet compatible with existing VBX spreaders.
More From 5/29/2019 on FacilitiesNet